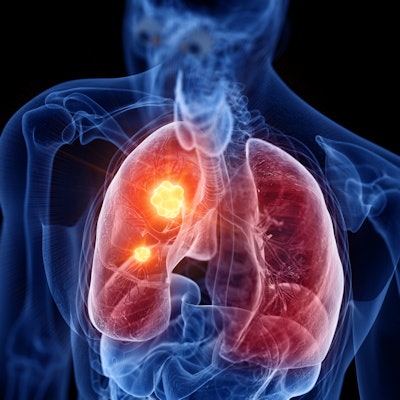 Long-term exposure to air pollution should be considered a risk factor for lung cancer in patients who have never smoked, according to research presented August 9 at the International Association for the Study of Lung Cancer (IASLC) 2022 World Conference on Lung Cancer in Vienna, Austria.
After comparing cumulative three-year versus 20-year exposure to air pollution in over 200 females with newly diagnosed lung cancer who had never smoked, a team of researchers led by Dr. Renelle Myers of BC Cancer in Vancouver found that many foreign-born Canadian women had experienced long-term exposure to air pollution.
The researchers studied 236 female patients with newly diagnosed lung cancer who had never smoked and were invited to participate in the study. Of these, 190 (83.3%) were born outside of Canada and 71% were Asians. The patients had a mean age of lung cancer diagnosis of 66 years, and 92.8% had adenocarcinoma and 55.9% had stage III/IV lung cancer.
To assess both short- and long-term exposure to outdoor air pollution, the researchers used the International Agency of Research on Cancer's carcinogenic benchmark level of particulate matter of 2.5 micrograms/meter3 (PM 2.5) in outdoor air pollution. After collecting detailed patient background and residential history, they linked residential locations to satellite-derived PM 2.5 exposure data beginning in 1996. A high spatial-resolution global exposure model was then used to quantify cumulative exposure to PM 2.5.
The researchers found that an assessment of three-year exposure to a carcinogenic level of outdoor air pollution significantly underestimated cumulative exposure to PM 2.5 prior to lung cancer diagnosis, especially among patients born outside of Canada.
Only four (2%) of the foreign-born patients had a three-year cumulative PM 2.5 exposure of more than 10 ug/m3, while 38 (20%) had a 20-year cumulative PM 2.5 of more than 10 ug/m3. The difference was statistically significant (p < 0.001). What's more, all patients had a PMI 2.5 exposure greater than 5 ug/m3.
"Our study demonstrates the importance of incorporating long-term cumulative exposure to ambient air pollutants in the assessment of individual lung cancer risk in combination with traditional risk factors," said Myers in a statement from the IASLC. "Our finding has important clinical implications in assessing lung cancer risk with global migration."