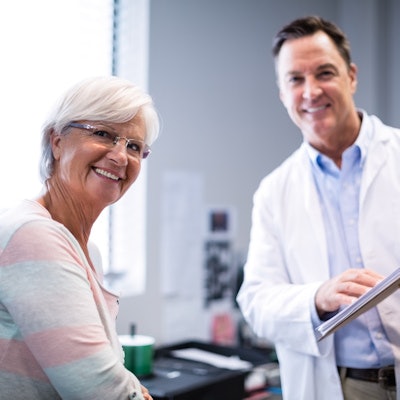 Pulmonologists and primary care physicians have contrasting opinions regarding CT lung cancer screening -- with pulmonologists referring far more patients for the exam, according to an article published in the January-February issue of the North Carolina Medical Journal.
Prior studies have shown that many family physicians are unclear on the topic of CT lung cancer screening. Despite support for CT lung screening from the U.S. Preventive Services Task Force and numerous medical societies, the American Academy of Family Physicians (AAFP) does not recommend the exam, claiming there is insufficient evidence to recommend for or against screening in most cases.
Researchers behind the current paper, led by Louise Henderson, PhD, from the University of North Carolina, sought to understand the practices and attitudes of primary care physicians, including internal medicine physicians, and pulmonologists toward CT lung cancer screening. They believed that evaluating differences among these specialties would help clarify the extent to which physicians were implementing their institution's CT lung screening program (N C Med J, January-February 2019, Vol. 80:1, pp. 19-26).
To that end, Henderson and colleagues conducted an online survey in 2015 involving 34 pulmonologists and 186 primary care physicians at an academic medical center. The survey's 23 items included questions and clinical vignettes designed to determine the opinions and practices of the physicians regarding CT lung cancer screening.
There were statistically significant differences between the specialties in terms of their views on CT lung cancer screening, the researchers found. A considerably higher proportion of pulmonologists considered the exam to be beneficial (p < 0.0001) and cost-effective (p = 0.02), compared with primary care physicians.
These differing opinions were reflected in the physicians' implementation of their institution's lung screening program. The percentage of pulmonologists who ordered a CT lung screening exam in the 12 months preceding the survey was nearly double that of the primary care physicians.
Opinions of primary care physicians vs. pulmonologists on CT lung screening
Primary care physicians
Pulmonologists
View CT lung screening as beneficial
37.7%
88.2%
View CT lung screening as cost-effective
14.3%
47.1%
Ordered CT lung screening exam in past 12 months
41.2%
76.5%
Discussed results of screening exam with patient
41.8%
70.6%
Despite these differences, physicians from both specialties agreed on the main barriers limiting effective screening: patient costs and the potential for emotional harm. However, a higher proportion of primary care physicians than pulmonologists pointed to high false-positive rates and medical complications from unnecessary procedures as additional concerns.
Some of the variation in screening exam referral rates may be because primary care physicians have less time than pulmonologists to discuss screening options with patients, as well as the higher ratio of chronic-to-nonchronic smokers that pulmonologists attend to, the authors noted.
"Understanding the opinions, beliefs, knowledge, and practice patterns of primary care physicians and pulmonologists may result in improved educational programs and development of comprehensive infrastructures that strengthen support and collaboration among the various physicians who are charged with providing this preventive service," they wrote.