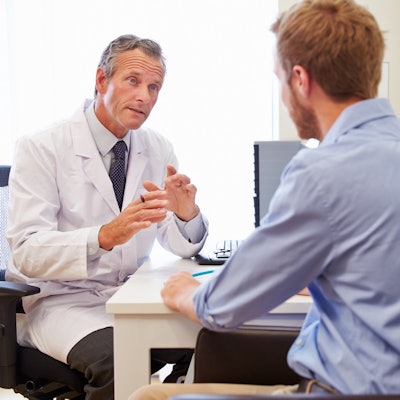 When it comes to CT lung cancer screening, physicians are missing a golden opportunity to reach out to high-risk individuals -- only discussing the test with less than 20% of patients who are current and former smokers, according to an article published online March 9 in the Journal of Cancer Education.
"Lung cancer screening in high-risk adult smokers has the potential to reduce lung cancer mortality through early detection," first author Samir Soneji, PhD, from Dartmouth College told AuntMinnie.com. "Physician education about eligibility for screening and improved knowledge on the risks and benefits of CT lung cancer screening can facilitate uptake [of the test]."
Despite a favorable recommendation from the U.S. Preventive Services Task Force (USPSTF), compliance rates among those who are eligible for CT lung screening remain low in the U.S. -- as low as 2%, according to a 2018 study. The phenomenon has prompted concerns among screening proponents to address the reason for low adherence.
In the current study, researchers sought to determine just how often physicians were initiating conversations about CT lung screening with patients, based on data from the 2017 Health Information National Trends Survey administered by the U.S. National Cancer Institute.
The group focused on the 1,667 individuals who fell within the USPSTF's recommended age interval for lung screening (55 to 80 years) and who had a doctor's appointment between January and May of 2017. The population was 76.4% non-Hispanic white, 8.6% non-Hispanic black, and 9.2% Hispanic. Approximately 52% of the patients were female, and 48% claimed to be former or current smokers.
Prevalence of CT lung cancer screening discussions between physicians, patients
Never smokers
Former smokers
Current smokers
Percent of patients
3.8%
10.5%
18%
The odds of discussing CT lung screening were nearly three times as high for adults 65 to 69 years old, compared with those 55 to 59 years. The likelihood of discussion doubled for individuals with a history of cancer and tripled for individuals with chronic lung disease, compared with those who had neither condition.
"Our study concludes that a key prerequisite to lung cancer screening -- shared-decision conversations between physicians and their eligible at-risk patients -- does not frequently occur," Soneji said.
What potential barriers could be preventing these discussions from taking place? Soneji and colleagues mentioned several possibilities, including insufficient time during routine office visits, lack of comfort in handling screen-detected findings, and uncertainty about patient eligibility criteria.
Among the potential barriers, the group found that lack of trust in physicians could hardly be considered a factor: More than 70% of the patients claimed that they would trust health or medical information from a healthcare provider "a lot." In comparison, less than 22% said they would trust health information if the primary source was the government.
Healthcare providers are widely considered trusted sources of information, and discussions that appropriately explain the potential risks and benefits of CT lung screening could help bolster awareness of the exam -- ultimately decreasing the burden of lung cancer mortality, the authors concluded.