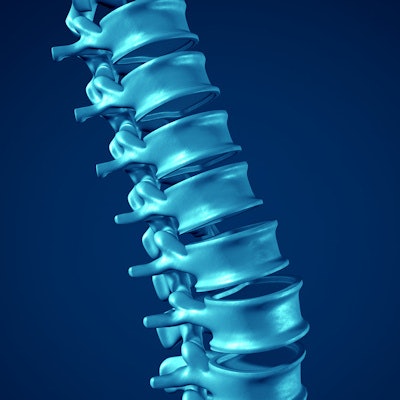 An AI application that uses smartphone photos to diagnose scoliosis appears to match surgeons using x-ray images, according to a team of Hong Kong researchers.
A group led by Teng Zhang, PhD, of the University of Hong Kong, found that a deep-learning model called ScolioNets performed similarly to spine surgeons when evaluating the severity of adolescent idiopathic scoliosis (AIS). One advantage of the model is that it is radiation-free, the authors noted.
"With no extra radiation and minimal cost, this model could provide continuous monitoring with prompt interventions triggered when progression is detected," the group wrote in a study published August 23 in JAMA Network Open.
During the COVID-19 pandemic, the researchers validated the algorithm and integrated it into an open AI mobile phone app called AlignProCARE in order to meet the need for out-of-hospital exams, they explained.
Essentially, the AlignProCARE app accepts smartphone photographs of a patient's unclothed back, with the ScolioNets algorithm then providing scoliosis classifications based on detecting standard disease severity taxonomy.
In this study, the group aimed to further assess the algorithm's reliability using prospectively collected data from patients with AIS treated at a clinic outside of their hospital.
All images of participants' backs were taken voluntarily by the participant's parent or guardian using a smartphone. Minimal training was required to use the mobile app, as the app provided a built-in protocol for photo acquisition, the authors noted.
Paired x-rays of these participants acquired during routine care were then anonymously retrieved from the hospital system in PNG format. Next, two spine specialists, a senior and junior surgeon with more than 20 years of combined experience, classified AIS severity and progression on the x-rays.
In a cohort of 378 patients, the model correctly recognized AIS severities as well or better than the surgeons, according to the findings.
AI model (photographs) vs. surgeons (x-rays) in classifying AIS severity
Measure
Junior surgeon
Senior surgeon
ScolioNets algorithm
Sensitivity for recommending follow-up
63%
44%
85%
Sensitivity for recommending surgery
20%
21%
83%
Negative predictive value for recommending follow-up
79%
72%
89%
Negative predictive value for recommending surgery
71%
70%
90%
"The findings of this diagnostic study suggest that the AlignProCARE app powered by the ScolioNets deep-learning model could provide accessible mobile assessments of AIS, especially for patients with barriers to access care from experienced spine specialists," the researchers wrote.
Although the study results are promising, a multicenter trial with international collaborators to further evaluate the robustness of the model is needed, the group concluded.
The full article is available here.