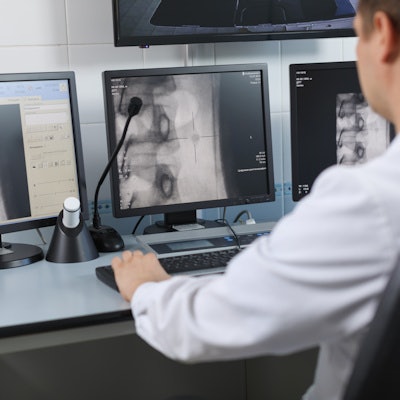 Ergonomic improvements at the work and home office are more important now than ever as radiologists use computers more and work longer hours. The situation is particularly acute as the COVID-19 pandemic has resulted in many radiologists working from home.
Radiology's rapid adoption of PACS and digital image interpretation has led to a rising incidence of ergonomics problems that must be addressed. To that end, a team led by Dr. Alyson Glover from the University of Texas listed some ways that such improvements can be made to desks, chairs, monitors, and other components.
"A sound ergonomic approach is beneficial not just to the individual radiologist, but also to the institution and to the radiology practice by maintaining wellness," Glover and colleagues wrote.
Previous research suggests that since PACS workstations were introduced, more injuries related to poor ergonomics have been reported. Radiologists are reportedly working longer hours and interpreting more studies per hour than before PACS was implemented into standard practice, researchers wrote in a review article published March 5 in Current Problems in Diagnostic Radiology.
"Some of the most commonly reported injuries involve the neck, the back, and the wrist, which may have been avoided or delayed with an appropriate ergonomic setup," they added.
Glover et al examined just what an optimal setup could look like. Desks should be curved in contour with adjustable height, they wrote. This includes the option to raise the desk to a standing position.
The team found at their institution that having two independently adjustable tabletops is the best possible method. This allows for height adjustments of computer monitors to the appropriate eye level for radiologists. It also allows for height adjustments to the computer keyboard and the mouse.
The researchers also added that the curved contour allows for easier monitor viewing compared with rectangular monitors.
Chairs, meanwhile, should have adjustable armrests, back support, seat tilt, seat height, seat length, and neck support, they wrote.
Adjustable options to desks and chairs can help with achieving the ideal monitor distance from display to radiologist, which the researchers wrote is reportedly 50 cm to 75 cm. Monitor height, meanwhile, is suggested to be 15-50 degrees below eye level and should not be higher than the radiologist's eye at minimum, they added.
The study authors recommended that the locations of the computer mouse, keyboard, and Dictaphone should be based on the frequency and ease of use.
"For example, a left-handed person would typically require a different arrangement of these items as opposed to a right-handed person," they wrote. "Additionally, items that are more frequently used should be placed so that they can be reached easily."
They added that wrist support and use of wireless devices can help reduce strain on the hands and wrist.
Blue-light filters for monitors can help reduce eye strain, while room dividers can help reduce noise, and adjusting the room temperature can promote comfort, Glover et al wrote. Previous research suggests a temperature between 68° F and 75° F with a relative humidity between 40% and 60% for the latter.
Teleradiology has become a mainstay since the beginning of the COVID-19 pandemic. The researchers wrote that it may be worth applying the same ergonomic strategies pioneered in the reading room to the home office.
However, they added that some institutions should consider providing or funding purchases of such equipment, since it can be costly for radiologists to buy for personal use.
"However, if working with a smaller budget, then one should prioritize what would provide the most benefit for the cost for that individual," the authors wrote.
Through these proactive strategies, the team suggested that ergonomic practices can perhaps lengthen a radiologist's career and may improve efficiency.
"If radiologists interpreting imaging studies can implement changes in their daily functions and workstation setups, they can achieve a better quality of life," they added.