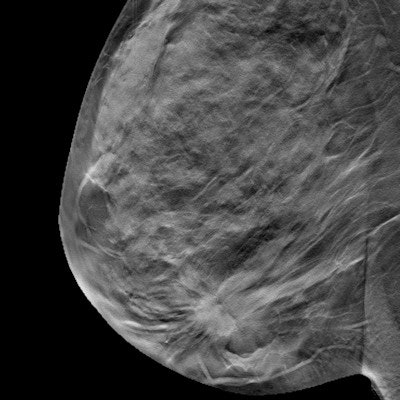 While some hurdles still need to be overcome, the use of artificial intelligence (AI) to analyze digital breast tomosynthesis (DBT) images is already showing great promise, according to some of the earliest users of the technology. These early adopters say the combination of AI and DBT is producing benefits for both radiologists and patients.
The rapid adoption of DBT, also known as 3D mammography, has advantages in the early detection of breast cancer, such as higher sensitivity and lower recall rates compared with traditional 2D mammography. But DBT also has created challenges, such as more images for radiologists to interpret, representing a considerable increase in interpretation workload.
AI represents a possible solution that would streamline the interpretation of DBT images for radiologists, allowing them to rapidly spot any areas of concern and focus on those areas.
User experiences with AI for DBT
To date, only one AI algorithm is approved by the U.S. Food and Drug Administration for use with DBT -- ProFound AI from iCAD. The company received initial clearance for the software in 2018, and version 2.1 was cleared in October 2019.
The ProFound algorithm has been trained to identify malignant soft-tissue densities and calcifications. The deep-learning algorithm uses pattern recognition to identify suspicious areas on a DBT image and mark the contour of lesions on either tomosynthesis slices or 2D mammograms.
"Our experience to date has been excellent. Our pickup rate has increased by 50%."
— Dr. Harold Tanenbaum, Marine Park Radiology
The software is starting to be adopted at various locations in the U.S. with users reporting good results. In particular, the software helps with workflow, according to Dr. Randy Hicks, a radiologist and the CEO of Regional Medical Imaging, which began using ProFound AI in March of 2019.
"It has been a big help to us in terms of working through tomosynthesis," Hicks said. "Having to go through a much larger volume [of images] can put you in a state of anxiety, wondering to yourself if you have missed anything."
Another user, Jay Smith, the director of imaging at McKenzie Health System in Sandusky, MI, has received very positive feedback about the software from radiologists in the health system he manages.
"It provides them with assurance that they are not missing anything," Smith said. "It helps them in challenging cases. They pay more attention to those areas [identified by AI]."
To Dr. Mark Traill, a radiologist at the Metro Health/University of Michigan, the benefits of using AI for DBT in his practice are very clear.
"It can mean the difference between life and death," he said. "It is not a big expense when you consider what you are able to accomplish and what you are able to do for patient health."
And Dr. Harold Tanenbaum, a radiologist and medical director at Marine Park Radiology in New York City, echoes Traill's view of the AI system.
"Our experience to date has been excellent," Tanenbaum said. "Our pickup rate [for cancer] has increased by 50%. It has been very useful to us. It is like having another pair of eyes looking at the film."
Reimbursement remains a hurdle
While radiologists express very favorable clinical experiences with AI for DBT, there are still a few issues that remain to be worked out. One of them is a reimbursement scheme to compensate the for using the software.
Currently, neither the U.S. Centers for Medicare and Medicaid Services (CMS) nor private insurers are providing reimbursement for the use of AI for DBT, and radiologists who use Profound AI and spoke with AuntMinnie.com do not anticipate that reimbursement will be forthcoming.
"I do not think you will see reimbursement [for AI in DBT]," Hicks said. "At the end of the day, we made that decision to spend that money."
The value of the technology is evident given its ability to find more cancers and its ability to facilitate more rapid reading of images, Hicks continued.
"It is about the value proposition," he said. "The question is if you [a radiologist] are willing to go without it?"
"This provides the best care possible to our patients at this time."
— Dr. Mark Traill, Metro Health/University of Michigan
Radiologists like Traill believe he and his colleagues who embrace technological change and welcome deep learning in their practices will be able to stand out from their peers with the deployment of AI in their practices.
"People who deploy the technology are going to be able to make a strong argument that they are better" at detecting cancer earlier than their counterparts who do not use AI, Traill said. "This provides the best care possible to our patients at this time."
The absence of a reimbursement scheme for AI is problematic, according to Dr. Linda Moy of New York University School of Medicine and the Center for Advanced Imaging Innovation and Research at the Laura and Isaac Perlmutter Cancer Center in New York City.
"There is obvious benefit, but does this translate to us getting reimbursed?" asked Moy asked. "That is a whole other ball game. Now that clinical implementation is starting, reimbursement will become a really big issue."
It may be that AI in DBT will have to demonstrate through prospective studies that it is effective in different populations and works with mammography systems from different vendors before reimbursement is developed, according to Moy. Currently, only retrospective studies on the use of the technology are available, she said.
Moy noted that an older technology -- computer-aided detection (CAD) -- failed to improve diagnostic accuracy, with many false prompts resulting in higher false-positive rates, recall rates, and biopsy rates. Consequently, with its clinical value not perceived as strong, radiologists can no longer charge directly for the use of CAD, Moy explained. Rather, CAD reimbursement is bundled into the price of a mammogram.
Longer-term savings will accrue
But even in reimbursement remains a question mark for the time being, radiologists are confident that using AI for DBT may make the difference between early and late diagnosis of breast cancer, thereby avoiding scenarios in which patients are being treated for more advanced disease that is more insidious and also more costly, Traill said.
"For me, it is peace of mind," he said. "For the system, it can be a huge financial benefit if you can treat these women [early]. The whole point is catching [breast cancer] early. Using the algorithm can have a huge impact on the patient. And treating something that is metastatic is much more expensive than removing a lesion early in the disease process."
Another area where financial savings can potentially accrue through AI for DBT is in the reduction in orders of additional screening tests to confirm initial diagnoses and rule out breast cancer, Traill said.
"This will help reduce the need for additional imaging, with respect to questionable areas [of the images]," he said.
Errors and liability
In a litigious clinical practice climate in the U.S., the increasing adoption of AI for DBT may complicate the question of where the onus rests with respect to diagnostic decisions, Moy believes.
"Where does the responsibility lie [if there is a misdiagnosis]?" asked Moy, who has participated in discussions with colleagues about this topic. "Who is liable? Is it the radiologist or the vendor who developed the software?"
Indeed, liability is not a minor concern for radiologists involved in breast imaging, Traill noted. Not identifying a breast cancer is one of the main bases for medical malpractice for radiologists, he said.
"It is the most likely thing you would be sued for," said Traill, underlining that deployment of AI with DBT will contribute to minimizing the potential for any missed breast cancers.
Future prospects for AI
Traill is optimistic about AI with DBT being able to perform on par with radiologists and exceed the ability of radiologists when it comes to diagnosis in the coming years as AI algorithms become more complex.
"When we read mammograms, we can read priors and look for change," Traill said. "It is very helpful for us to look back and see a change. In the future, the algorithm will be able to do that. The rate of change of a lesion is a good predictor that something is growing. The algorithm will be able to notice that there has been a change."
As an early adopter of AI for DBT, Hicks believes that his patients are receiving stellar care in breast imaging.
"If you are a radiologist and you are not using it, I feel bad for your patients," he said.