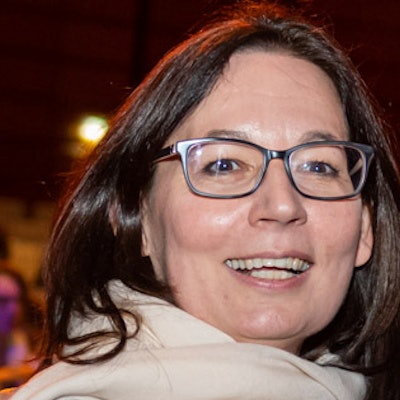 VIENNA - Dr. Marion Smits, PhD, of Erasmus University Medical Center Rotterdam, the Netherlands, didn't expect to go viral on Twitter when she posted a picture of the customized mugs she gifted her students to celebrate their first lead author publication.
But with over 1.5 million views and 2,700 retweets of the picture to date, she might have cracked the code on how to make use of social media as a radiologist.
Two of my PhD students published their first first author paper - my traditional gift to celebrate this wonderful milestone 😃 pic.twitter.com/pcxANFVACB

— Marion Smits (@MarionSmits) January 28, 2023
In a March 2 open forum discussion, Smits and colleagues shared experiences and advice about using social media as a professional tool. Co-panelists included Dr. Bettina Baessler of University Hospital Wuerzburg in Germany and Dr. Federica Vernuccio of the University Hospital of Padova in Italy. Dr. Daniel Pinto dos Santos from the University Hospitals of Cologne and Frankfurt in Germany was the moderator and organizer of this session.
Smits started the discussion by encouraging the audience to use social media for such purposes as attracting more readers to radiology publications but urged caution when doing so, noting that blurring the lines between the professional and private could be overwhelming and potentially dangerous.
"All information you put out there can be used against you," she said, and she warned session attendees never to share their actual location, recounting how she had once been contacted by scammers after posting from a conference at which she was speaking. She also emphasized that when addressing controversial topics via social media, "prepare for pushback," and quoted Michelle Obama's advice -- "When they go low, we go high" -- as a good rule of thumb when it comes to handling online trolls or cyberbullies.
Finally, Smits urged her radiologist peers to stay on top of institution policy regarding social media, to avoid sharing classified information, and to carefully consider other people's privacy and right to consent when posting pictures of colleagues or images. She stressed the importance of not presenting a perfect image of what it's like to be a radiologist by only sharing wins and awards, but she also said that complaining about work online could discourage young people from joining the field. Whatever the message, reflecting on the way it might come across makes all the difference, she explained.
"You're never too old to use social media," and actively contributing to social media might be a perfect way to enhance one's early career, Baessler said, although she did concede that using social media isn't for everyone. Baessler was awarded the Eurominnies award for Best Educator in 2022 and has a catalog of educational content on Youtube. She recommended Twitter accounts like @ESR_Journals, @jmri_ismrm, and @ELS_Radiology to stay informed.
Vernuccio suggested choosing one to three main social media platforms to build a profile and that radiologists should develop a comprehensive "content strategy" so that people understand the message and have a reason to hit that follow button. A "consistent pace of publishing is key to growing your audience and engagement," she noted, and she emphasized that content should be original -- although resharing colleagues' work is a good way to build community.
With the metaverse on the horizon, social media will continue to merge with daily life and work, and radiology will not be exempt from this trend, the panelists concluded, and they encouraged session attendees to use social media to connect to other radiologists around the world and contribute to a collaborative research culture.