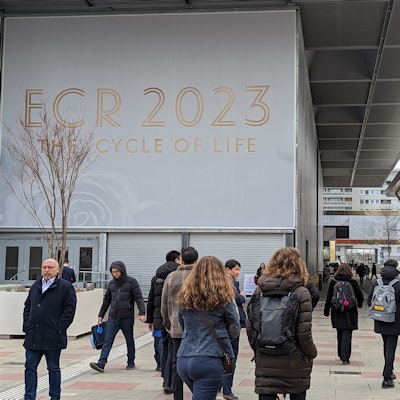 Positron emission mammography (PEM) allows for more accurate evaluation of breast cancer's response to chemotherapy, as well as residual tissue, according to findings presented March 2 at ECR 2023.
In her talk, Dr. Yassmin Nada from the Baheya Foundation for Early Detection & Treatment of Breast Cancer in Egypt presented her team's findings, which showed that PEM had perfect sensitivity and negative predictive values, as well as high accuracy.
PEM is a specialized application of PET that's used to visualize breast metabolic changes. The idea is that this method can view such changes with higher spatial resolution, allowing imaging readers to view smaller tumor cells. To gather images of these smaller cells, glucose attached to the isotope F-18 FDG is inserted into the cell, becoming trapped long enough to be imaged via radiotracer.
Nada said the indications for using PEM include enhanced lesion visualization, preoperative staging, and local staging in patients with renal impairment or contrast allergies. It can also be used to monitor response to neoadjuvant chemotherapy and post-breast cancer surveillance. Researchers are currently debating its use in visualizing tumors in dense breasts.
For this study, Nada and colleagues wanted to explore PEM's efficacy in monitoring neoadjuvant chemotherapy, as well as predicting residual disease in breast cancer. They tested their method on 38 breast cancer patients scheduled for chemotherapy. All patients underwent two PEM exams, one before and one after chemotherapy.
The team also used the Miller-Payne system for grading response of solid tumors to chemotherapy. The system uses a one-to-five scale, with one representing no reduction in overall cellularity and five representing no malignant cells being identifiable.
The researchers found that 36 of the patients showed response to chemotherapy, with 25 showing Miller-Payne grades of three and four (partial response) and 11 having a grade of five (complete response). The other two had grades of one and two, representing no response for this study's purpose.
As for diagnostic value, the team reported that PEM demonstrated high marks in several areas.
Performance of PEM in evaluating response to chemotherapy
Sensitivity
100%
Specificity
81.82%
Positive predictive value
92.59%
Negative predictive value
100%
Accuracy
94.44%
Nada also presented cases showing PEM in action. In one case, a 45-year-old woman with pathologically proven cancer in the right breast presented with two lesions, shown clearly on PEM. After chemotherapy, PEM showed two faint FDG uptakes, indicating partial response (grade 3).
In another case, a 64-year-old woman with pathologically proven cancer of the left breast presented with multifocal outer-quadrant lesions. PEM performed after chemotherapy showed no FDG uptake, indicating complete response.