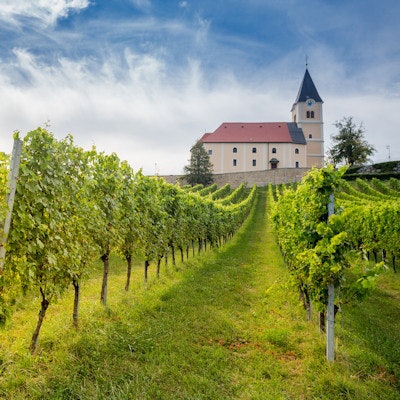 Austria has an international reputation for white wines, but its reds are less well known. Wine enthusiast Christof Pelz, AuntMinnieEurope.com's videographer at ECR 2023, suggests some good-value vintages you may like to sample.
About 30% of Austrian wines are red. Blaufränkisch (also known as Lemberger, or as Kékfrankos in neighboring Hungary) is considered Austria's signature red grape. It is the country's second most widely planted red variety and can be found in the highest concentrations in Burgenland and in eastern Niederösterreich. There are also locally grown varieties such as Zweigelt.
Wine production in Austria is not only found in the wine-growing areas of "Weinland" (which includes Niederösterreich, Burgenland, and Wien/Vienna) and "Steirerland" (Steiermark) but also in every other federal state. These are included in the wine-growing area of "Bergland."
The following is Christof's list of best buys to look out for in restaurants, wine merchants, and supermarkets in Vienna and elsewhere:
Blaufränkisch 2019, Winery Kerschbaum, Horitschon
Blaufränkisch Reserve, Eisenberg DAC 2018, Winery Grosz
Cabernet Sauvignon Red Hohe Lage 2020, Winery Michlits-Stadlmann, St. Andrä
Carpe Diem Prestige Cuvee Siegendorf 2019, Winery Lenz Moser, Rohrendorf
Merlot Osliper Ried Flachgraben 2019, Winery Nehrer, Eisenstadt
Sankt Laurent 2019 and Pinot Noir 2020, Winery Auer, Tattendorf
Syrah Selection 2019, Winery Scheiblhofer, Andau
Zweigelt Vasall 2019 or 2020, Winery Schwertführer 35, Sooß
Further information is available on Christof's website devoted to Austrian wine.