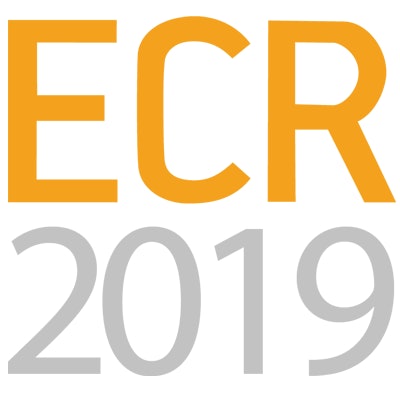 VIENNA - Radiology is moving toward a future in which radiologists, guided by artificial intelligence (AI), will be able to work more closely with clinicians to provide precise therapies that offer patients an improved quality of life, according to a series of speakers at the opening press conference of ECR 2019.
This new beginning has just begun in oncology imaging, according to Dr. Regina Beets-Tan, PhD, of the Netherlands Cancer Institute, who detailed how imaging of oncologic biomarkers is already beginning to change the management of cancer patients. Beets-Tan is giving the Wilhelm Conrad Roentgen Honorary Lecture on the topic on Thursday.
Cancer experts predict that within 15 years, cancer will become a chronic disease in which nine of 10 patients will have a good quality of life, Beets-Tan noted. Many of these patients will need to have their disease managed on an ongoing basis, a role for which imaging is perfect, she said. Indeed, recent studies have indicated that a strategy of watching and waiting with imaging after patients show a complete response after chemotherapy can be as effective as resection.
Artificial intelligence will play a key role in this future, Beets-Tan said. Computers will assist radiologists and enable them to provide closer support to the clinical team. Radiologists may also need to communicate more with patients as imaging is increasingly used to track their disease.
Ultimately, Beets-Tan sees some of the greatest potential with radiopharmaceuticals that have both diagnostic and therapeutic applications -- so-called "theranostic" agents. Radiology will shift from a focus on following morphological changes as a sign of pathology to detecting genetic "mistakes" that are a sign of current or future disease.
"This is not a fairy tale -- this is already being done in breast cancer," she said, citing the MammaPrint molecular test, which can identify which tumors have a low risk of being life-threatening.
The role of artificial intelligence in radiology was emphasized by Dr. Elmar Kotter of University Medical Center Freiburg. Kotter reviewed the evolution of AI and noted the large number of submissions on AI that ECR received.
AI is not necessarily a new technology, and it could be at the top of the hype curve, Kotter noted. But the technology is sure to change the role of radiologists in the future, especially once issues like the integration of AI into clinical workflow are resolved. Ethical issues are also important, and they were the subject of a white paper published earlier this month by a number of radiology societies.
"AI will be very important in radiology in the future," Kotter concluded.
For the first time, ECR is featuring a keynote speaker from outside the world of radiology: Bernadette Abela-Ridder from the World Health Organization (WHO). A doctor of veterinary medicine, Abela-Ridder leads research into neglected zoonotic diseases at the Department of Control of Neglected Tropical Diseases at WHO.
Abela-Ridder focused on the growing health problems presented by migrating populations worldwide. While it seems like the subject has become more prominent lately, she noted that the total number of migrants worldwide is actually at about the same as it's been for years -- approximately 3%.
There are a number of other misconceptions about migration, she said. For example, while immigrants to Europe have achieved widespread publicity lately, about 85% of the world's displaced population is outside of Europe. Also, while many suspect that immigrants from developing countries introduce exotic diseases into developed nations, the vast majority of tropical diseases seen in developed nations are actually brought back by tourists.
What does this have to do with radiology? However they get there, more exotic conditions usually seen in the tropics are showing up in places like Vienna, and radiologists are often the first healthcare professionals who encounter these diseases as they interpret imaging exams. Indeed, the decision to invite Abela-Ridder as a speaker was inspired by the recent outbreak of an exotic disease in Genoa, Italy, according to Dr. Lorenzo Derchi, president of the European Society of Radiology (ESR), who moderated the panel.
Finally, Dr. Jean-Pierre Pruvo, head of the department of neuroradiology at Lille University Hospital, spoke about the role of imaging in diagnosing and managing psychiatric illness. Mental illness is exacting a growing toll in society, and it's estimated that one in four individuals worldwide will experience some kind of illness, he noted.
Fortunately, this is another setting where imaging can help. Imaging tools such as MRI and MR spectroscopy can show evidence of neurological changes in cases of schizophrenia years before clinical evidence is obvious, Pruvo noted. Imaging can also be used to track the effectiveness of pharmaceutical therapy for mental illness in clinical trials.
In France, there are a number of projects underway to improve the integration of imaging and psychiatric care, such as the PREDIPSY project, which will soon acquire a 7-tesla MRI scanner to study biomarkers for mental illness.