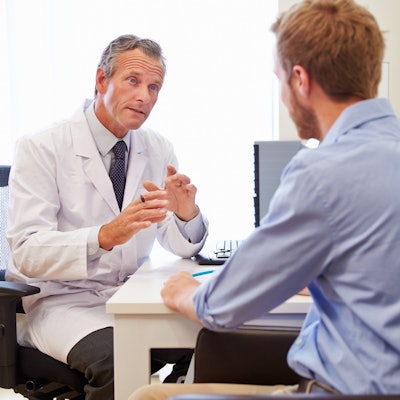 Most interventional radiologists are confident in discussing benefits, risks, and alternative image-guided therapies with patients, but not when it comes to procedures outside their wheelhouse, suggest findings published June 29 in Clinical Radiology.
A research group led by Tia Forsman, MD, from Brown University in Providence, RI, found that interventional radiologists are less confident discussing alternative treatment options outside of the field and that individual practices vary when it comes to time and location of informed consent conversations.
"Examining current informed consent practices ... allows for identification of areas where these criteria are likely met or possibly missed, followed by opportunities for quality improvement, practice support, and continued education within radiology," Forsman and colleagues wrote.
Informed consent is a challenging, yet important part of image-guided procedures. Radiologists must accurately explain to patients what procedures entail, including benefits and risks, and make sure patients adequately understand them.
Forsman and colleagues noted a lack of data in the U.S. on the perceptions of radiologists in this area, and they sought to characterize U.S.-based interventional radiologists' perceptions of informed consent conversations, as well as how they navigate this part of their jobs according to factors such as the location of the conversation, who on the care team most often obtains informed consent, the availability of guidelines within institutions, and the use of decision-aid resources.
They collected survey data from 159 radiologists. Of these, 67.3% worked in academic settings, and 66.7% worked as attending physicians.
The team found that 149 (93.7%) respondents reported feeling very or extremely comfortable when discussing the benefits of an interventional radiology procedure with patients during an informed consent conversation and that 138 (86.8%) felt very comfortable discussing alternative treatments within interventional radiology. But comfortability with the latter fell when it came to alternative treatments outside of the field, with just 74 (46.5%) reporting feeling confident.
This level of confidence also varied across different areas of training. When discussing treatment options outside the scope of interventional radiology, 21 (80%) junior trainees reported slight or moderate comfort, while 81 (76.4%) attending physicians felt very or extremely comfortable (p < 0.01).
The investigators also found the following:
Attending clinicians most often obtained informed consent (77.9%), followed by fellows or residents (59.7%), and then advanced practice providers (33.9%).
Informed consent conversations took place mostly (89.9%) in the pre-procedure area is the most common area for these conversations; other areas reported for these conversations included consultation rooms, in the hallway, or over the phone.
Most respondents (93.6%) indicated that they routinely evaluated a patient's decision-making ability.
Just over half (53.2%) of respondents reported that their institution does not have formal education, scripts, or documented guidance on what providers should disclose during informed consent discussions when it comes to different procedures.
The study results suggest an opportunity for institutions to develop more structured and formal education for trainees in this area, as well as address blind spots, the authors noted. They called for future studies to assess available recommendations and tools in various image-guided radiology practices for informed consent conversations, writing that these studies should further investigate the timeline of consent conversations for larger procedures as well as whether patients feel they have enough time and support to make such informed decisions.
The study can be found here.