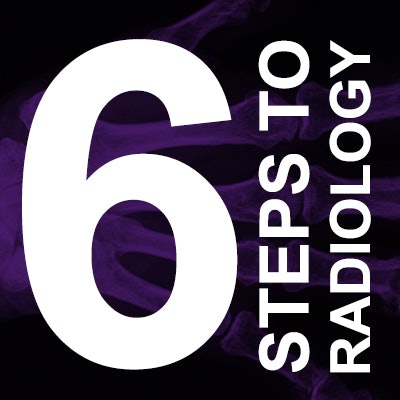 6 Steps to Radiology is a series of six articles that will run throughout the 2018-2019 academic year to help medical students find their ideal radiology residency program. It includes answers to common questions that radiology program directors and advisors have been asked; some advice reflects the personal opinions of the authors.
Congratulations on choosing diagnostic radiology as your career path! You have already made one of the most difficult decisions in medical school. Medical students often do not get exposure to radiology until their third or fourth year of medical school, so they may have a hard time deciding if this is the right choice of specialty for them.
There is a veritable plethora of information on applying to a medical imaging program; the purpose of this series of articles is to help you successfully navigate the Match process and obtain the radiology training program you seek.
An anxious wait
It will soon be that time of year when hopeful radiology residency applicants hover by their email with bated breath, anxiously waiting for interview invitations. Responses to their applications will certainly invoke sadness, disbelief, or anger if the anticipated interview is not forthcoming. How could program X like John/Jane Doe more than me? Can't they see I have more qualifications/better grades/everyone likes me better? Unfortunately, they often cannot.
Radiology selection committees need to rely on the two-dimensional Electronic Residency Application Service (ERAS) application. If it doesn't accurately reflect the applicant, then he or she may not get an interview.
Here are a few opinions of what may push an application to the top of the list -- or cause it to sink beneath the waves.
Obvious candidates are, well, obvious. Great board scores, many core clinical honors, awards for academic or personal performance, a real commitment to something outside of the quest for grades (research, teaching, and volunteerism are all worthy venues), and multiple letters written by people who clearly know the applicant; they not only have very favorable things to say but also note ways that the applicant shines above his or her peers. A candidate with all of these qualifications is certain to garner many interview invitations.
However, such stellar applicants are not as prevalent as you may believe. On the other hand, candidates who can marshal none of these discriminators will have, at best, a very difficult time gaining an interview, let alone a residency position.
The majority of applicants, then, fall between these two extremes. What helps, what hurts, and what can you do to help the reviewer of your residency application discover your true worth?
3rd-year clerkships
It is now June. Your third-year core clerkship grades should be nearly complete. Be aware that radiology residencies look for excellent grades in these core rotations (especially internal medicine and surgery).
Everyone knows that the grading systems of most schools for third year are subjective. Hopefully, you always showed up on time, were enthusiastic, offered to help, asked a lot of appropriate questions, and tried to learn as much as you can. In other words, you did something to stand out from the crowd.
Remember, great clinical grades are always a help, but the radiology selection committee will wonder about applicants who have sterling preclinical assessments but can't manage any honors or commendations in the core clinical clerkships.
Clinical grades require not only book knowledge but also interpersonal skills and the ability to integrate information from multiple disciplines. All three are important for success in radiology.
As to the number of honor grades, many programs keep track every year as to which schools hand out few or many honors. If your institution awards an honors designation to 50% of the class (grade inflation), it certainly means a lot less than if you have achieved a designation held by only 10%.
U.S. Medical Licensing Examination (USMLE) scores
If you are smart, have worked hard (and are a great test taker), and can offer those 99% scores on the USMLE, then good for you!
However, most committees know that some applicants are not in sync with standardized tests. If the only marginal item in your packet is your board score (you have achieved clinical honors, you have recommenders who love you, and you have a passion for something), you will still do well. If your boards are in the stratosphere, but honors have eluded you and your letters are lukewarm, selection committees at desirable programs can be a lot less than enthusiastic.
Medical Student Performance Evaluation (MSPE)
This is usually self-explanatory. However, there are institutions that list all clinical coursework as pass/fail. Honors and near-honors designations are sometimes revealed in the MSPE, usually unavailable until October, long after some of those desirable interview invitations are mailed.
If your school's transcript is not easy to decipher, be sure the committee knows about your achievements. You can list honors designations in the "awards" section of the ERAS application. The same is true for uncommon grading schemes. Eventually the grading rubric is forwarded, but until then, most radiology selection committees are pretty clueless as to what a designation of "satisfactory evaluation" means. Help yourselves and help those committees!
Work, volunteering, interests
Describe, describe, describe. Let selection committees know that your summer stint as camp counselor culminated in being a team leader, and that your two hours every week at the Alice B. Toklas Center involved helping illiterate adults to learn to read (and that you do this on a recurring basis). Were you commended for your efforts? Let committees know!
Please select appropriate categories for your life experiences. Work includes a paycheck. That three-month, 50-hour-a-week summer stint as a go-fer in the emergency room (ER) for which you didn't get paid, but learned a lot, doesn't count. It goes in the volunteer column.
Volunteerism includes the concept of helping others. Going to journal club or captaining your school parkour team to the national championship are not volunteer experiences. Committees really do want to hear about your passion for parkour, though. Put it in the activities section.
Also, please tell us your time commitment; fill in those blanks! If this is empty, selection committees are going to assume your involvement with the free clinic was a one-night stand.
While on the subject of volunteer activities, many committees are more impressed by one or two activities to which you demonstrate a commitment or a passion than by a list of 10, 15, or even 21 one-time or short-term items. The latter smacks of resume-padding, which carries a whiff of dishonesty. Most committees won't necessarily deep-six you for this fault, but it goes firmly in the negative column.
Research
Having some experience with research is ultimately useful, and having an opportunity to participate in research efforts can help you in the application process. Did you land a summer research opportunity, an elective month, or add research time into the rest of your schedule?
Not everyone has an interest or opportunity for research. Research experience can help you, but committees won't put a minus by your name if you haven't participated. Some of the competitive radiology residency programs may put a larger premium on this section.
Leadership
A relatively nebulous category, leadership can mean class VP, starting or being in charge of a volunteer activity, or being active in the admissions office. Again, strength in this area is a plus. Lack of demonstrated leadership alone is not a significant minus.
Letters of recommendation
Here is where you potentially have great influence over the appearance of your application. Select your references wisely. Committees want to hear from people who know you well and can describe what makes you who you are.
Letters from department chairs or from internationally renowned members of our profession per se carry no special value, rarely offer insight, and often are mere form letters, with only the name of the applicant changed (believe it or not, we see this every year!).
My institution, for this very reason, assigns all of the applications from a single school to a single reviewer. Letters from family and friends who have known you since you were 3 years old are suspect (you have made so little of an impression on people at school that you have to rely on biased sources?), and radiology selection committees have had several letters every year that started with, "I worked closely with John Doe for one week during his clerkship and feel I know him well." Really!
Last, but far from least, are the well-meaning letter writers who in loving detail recapitulate your transcript and accomplishments, leaving the final sentence or two to state that you will be a great addition to their program. Committee members can and do read your CV, but they look to your advocates for personal insight into to your personality, intelligence, work ethic, motivation, or team skills. These are important indicators of your potential as a resident and the likelihood that you will be a good fit for their institution.
For the majority of applicants in that vast middle ground, letters of recommendation can be powerful discriminators. How do you find someone to write you a meaningful letter? Start with people with whom you have forged a strong and positive relationship. A month rotation is a minimum. An adjunct faculty member with whom you have spent sleepless on-call nights and done research, or who precepted a clinical month you are proud of, will have more knowledge of you as a person than the honored chairman you sat with at the PACS station for a week.
Do your letter writers work with many students, so they have a sense of your strengths compared with those of your peers? Ask if they often write letters and -- better yet -- if they have experience reading letters of recommendation.
Are your recommenders willing to share with you what characteristics they think are valuable in a recommendation? If they demand your CV, transcript, and personal statement, be cautious. Recommenders should be able to write effectively with only their personal knowledge of you.
The personal statement
Many radiology selection committees find these as hard to read as you do to write. Committees seldom use the statement as an important discriminator.
That said, there are rare personal statements that are so successful in painting a picture of you as an interesting person that committees will really want to meet you. Unfortunately, more of you worry committees by using self-aggrandizing, ego-centric prose. If your file is iffy to start with, this will put you in the rejected pile. Selection committees are looking for team players, not prima donnas.
Everyone thinks the personal statement is the pivotal part of the application. For some reviewers it may indeed be primary, but everyone knows other committee members who save the personal statement for last and, even then, skim it unless it is really "worth reading."
This is why it is essential to make your statement stand out so even the skeptics -- who think they have seen it all before -- will read on. This piece must be flawless. Make your personal statement intriguing and make sure it tells your story.
Here are a few guidelines for writing your personal statement:
Start with something catchy to engage your reader. The first one or two sentences are pivotal. If the opening of your essay bores your reader, he or she may stop reading.
End with a strong conclusion to leave a lasting impression.
Do not use cliché phrases, such as "I like internal medicine because I enjoy working with patients."
In general, it is better to "show" through example or anecdote rather than "tell." Instead of writing "I am empathetic and hard-working," illustrate with examples of how you have demonstrated these qualities.
With every paragraph, ask yourself if someone else could have written it; if the answer is yes, go back and make the paragraph more distinctive.
Do not regurgitate your CV or write about something that can be read elsewhere in your application.
Do not repeat yourself. With each sentence, ask yourself, "Have I already said that?" If the answer is yes, hit delete.
Use an active rather than passive voice.
Your essay should be authentic. No matter what advice you receive, your essay must be a reflection of you and must be, as the title suggests, personal.
It is essential to illustrate your interest in the specialty to which you are applying. This is also the place to explain any red flags in your application, such as gaps in time, institutional actions, a board failure, etc.
Also explain any obstacles you have overcome: Were you the first in your family to graduate from college? Were you an immigrant? Did you have limited financial resources and work through college?
Many applicants tend to shy away from the very things that make them impressive because they are afraid of appearing to be looking for sympathy. As long as you explain how you have overcome adversity in a positive or creative way, your experience will be viewed as the tremendous accomplishment that it is.
ERAS allows you to write multiple personal statements. Applicants should be encouraged to write individual essays to express interest in a specific geographic area or for a specific type of program, such as a community versus an academic setting.
ERAS photo
Many people ask what kind of picture to submit. You do not need to have a photographer take your pictures. Look professional, look neat, and smile. No one wants to work with someone who looks grouchy. The picture also serves as reminder of who you are after you have interviewed, so make sure it is current. If you just colored your hair blonde, don't submit a picture of yourself as a brunette.
Pulling it all together
So, you have constructed a polished application and are ready to apply to your dream radiology residency program, right? Almost!
Be timely and scrupulous about weeding out typos. Make sure your CV chronology is complete: no time gaps. Let committees know about your accomplishments: Spell out unusual grading schemes and describe your additional activities in detail, including special recognition and time involved. Remember -- no resume padding!
Select your letter-of-recommendation writers carefully. Be cautious about inflated personal statements. If you do all this, you will maximize your chances to get that residency interview.
The bottom line
Use every space in your application to your advantage. Tell your story and explain what makes you unique. The key is to engage and keep your readers' attention, pique their interest, and motivate them to click the "interview" check box in ERAS.
Finally, as an applicant, seek programs with a strong educational background and well-rounded academic and personal experiences. Most incoming radiology residents have engaged in research, ranging from basic science to clinical research, and many choose to continue these efforts during residency. At the same time, look for programs that offer broad clinical training, which benefits graduates whether they choose an academic or private practice career.
Diversity is a hallmark of any residency. Seek programs that welcome and encourage applications from all qualified candidates, including women and members of underrepresented minority groups. Each applicant brings a unique perspective and talent, and the combination of these various abilities is a major strength of any residency program.
Dr. Tan-Lucien Hassan Mohammed is the vice chair of education and radiology residency program director at the University of Florida. He has received numerous teaching awards and honors in his career, including being named teacher of the year four times. He has published more than 100 peer-reviewed articles and 30 book chapters.