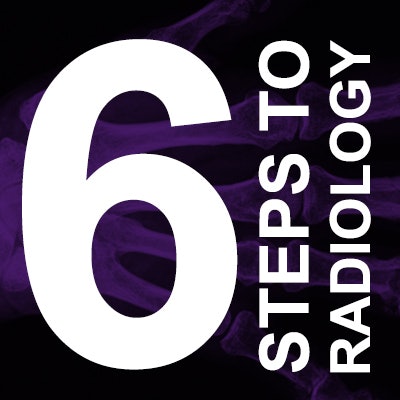 6 Steps to Radiology is a series of six articles that ran throughout the 2018-2019 academic year to help medical students find their ideal radiology residency program. It includes answers to common questions that radiology program directors and advisers have been asked; some advice reflects the personal opinions of the authors.
You finally made it, you say to yourself as you pack your bags and say goodbye to your medical school colleagues and professors and head off to intern year. You may be wondering if this is a year of waiting between you and the start of your radiology career.
Intern year can be a vibrant time in your medical education, a chance to further your professional independence and reflect on your status as a practicing physician. It is an important time to also build strong practices that will help you succeed in radiology rotations and throughout your career.
Several aspects of intern year will help build you as a learner and an educator.
The teaching game
Review your internship schedule, as every rotation is an opportunity to integrate radiology into your learning and teach this to your fellow interns. Instead of crossing out each block of rotations as you pass them, take a moment at the start of your year to make a note on your rotation schedule on how you will integrate radiology.
For example, in your medicine clinic, you can review the imaging signs of congestive heart failure with your fellow interns during roundtable discussion and go over complications related to diabetes or aortic disease. During your inpatient ward, you can be the go-to physician for radiology imaging consults on your team; this will also allow you the valued opportunity to call on the radiology department and consult face to face with radiologists.
Regardless of whether or not you are staying at your institution, you will build on your professional network and recognize that the radiology community is supportive and welcoming. You may form friendships with some of the radiology residents and fellows and also gain opportunities to work on projects together or experience valuable minilessons on your patient's imaging.
If interested, you can also inquire with the radiology program director and medical student clerkship director about the radiology interest group for the medical school that you are at. Usually, just a few of these events are held per year, but they can be a valuable opportunity for you to gain perspective from someone who has recently matched or perhaps is from a different school than your own. In return, you will find a welcoming community that engages you through your year and provides active learning opportunities.
Self-care
Radiology residency is a marathon, and internship is the warmup. Your internship may not precisely correlate in subject matter to radiology on a day-to-day basis, but it gets you ready for the challenges of further training. Internship is an opportunity to take care of yourself and akin to a warmup session to avoid injury during a sport.
"Radiology residency is a marathon, and internship is the warmup."

During internship, learn to listen to yourself and understand what you need both mentally and physically to be the best learner and physician. For example, you may realize your favorite form of exercise is tennis, maybe meal preparation is important for your dietary needs, or you need a certain amount of sleep to catch up with your rest.
This is also is a chance to instill good habits for taking your leave. Nearly all residents utilize their vacation time during internship, as the year forces this by requiring advanced planning. Carry this on to your radiology residency, where you plan your vacation at the beginning of the year.
Scheduling this downtime is very important to avoid burnout and falling into the trap of rolling over vacation days at the expense of your mental health. For many interns, this is the first time they are required to self-schedule and not adhere to school breaks for time off.
With appropriate scheduling, you can enjoy fulfilling activities during your residency. For example, you can plan that in March you will take that long-awaited trip to Italy with your sister, or attend the family reunion for your grandma's 90th birthday. When a formal call to vacation is made early in the academic year, you can be ready to request that time rather than ask in December, when the schedule would require rearrangement and your leave would be difficult or impossible to accommodate.
Hopefully, five years from now, active planning and investment in taking care of physical and mental wellness will find you a happy graduating radiology resident.
Study habits
Although the time between medical school and residency in radiology is only one year, it is important not to lose the strong study habits you developed in medical school during that year. Radiology education requires a large amount of knowledge processing in the first year. Your first-year schedule in radiology may feel like a dream on paper, with ample time on the nights and weekends, but a large volume of self-directed learning is required. Hold yourself to your study habits by evaluating how you learned in medical school and planning for your residency year.
This is not to say that internship is the time to cram radiology. It is a time to enjoy and gain confidence transitioning into a physician from a student role, but it is also a valuable opportunity to assess how you learn so you can be an efficient learner.
For example, you may find that you enjoy listening to recorded lectures and casebooks ahead of didactic reading. You may also find that you do better digesting small volumes of information -- for example, studying one or two smaller topics daily in the morning and evening, rather than a large block of time on the weekend.
Your learning environment also is important. In your evaluation, consider if you study best at home or have to "escape" to the library to have focused time. Understanding how you best learn and what learning schedule works for you will save you valuable time in trial and error once you reach radiology residency.
Time for reflection
Come the midyear holiday time you may feel that the year seems never-ending. Go back over the pointers above and see how you can reinvigorate your interest in radiology, integrate radiology into the year, and make the most of internship.
This is also an important reason to have scheduled self-care, including vacation time. Remember that you are also providing a valuable service, and your motivation and energy are contagious to your fellow trainees and medical students.
Take time to think about your role as a physician in your internship. Try to enjoy the day and find gratitude in your work, such as when you help a patient with diabetes to manage their medications and be well enough to be discharged, or help a patient and family understand a medical procedure.
Reflect on how you have an important role in the healthcare system and the unique training to help patients. Some tools you can use to do this include keeping a gratitude journal, keeping in touch with medical student colleagues, or mentoring a medical student. Also, checking in with co-interns is important to provide a community of support, especially if you have a struggling colleague.
Time to be responsive
Toward the end of your internship year, in the early spring, be sure to be responsive to communications and requests from your future radiology residency program. Residency programs require a large amount of paperwork to be processed prior to on-boarding, which includes state licensure. Prior to the start of the academic year, the state medical board is quite busy, and the processing period is often slightly longer. You may also need to be credentialed at several hospitals -- for example, the U.S. Department of Veterans Affairs -- in addition to your home institution.
Your timely and professional communication during this time and your attention to your paperwork are the first reflections of you as a resident to your future department. This includes avoiding sending negative or rude emails and also ignoring emails and phone calls.
Complete assigned training modules on time and all credentialing and licensure paperwork. Resist the urge to put it off until later when you receive these notices, as you may not get to it for a few weeks and end up missing important timelines. If you are unsure of one of the process steps or encounter a problem with licensure or credentialing, this communication becomes imperative to starting residency. Showing good communication skills and following through is vital to making a positive impression. Starting off stress-free and on time is important, and this demonstrates that you are responsible and enthusiastic to begin the year.
The next chapter of your career
As you wrap up your medical school career and move onto the next chapter, your internship gives you the chance to reflect on all the achievements and hard work that have helped you become a physician.
Enjoy your internship year, and use it as a time to build your strengths and integrate radiology into your day-to-day work so that you actively learn.
Learn how to reflect on your education and learning style, your mental health, and what you need to be your best.
Be responsive and courteous to your future program coordinators and program director so that you can have a smooth and timely start to the radiology year.
Your career started the day you matriculated into medical school, so keep building on yourself to continue this positive investment to -- and through -- your radiology residency.
Congratulations!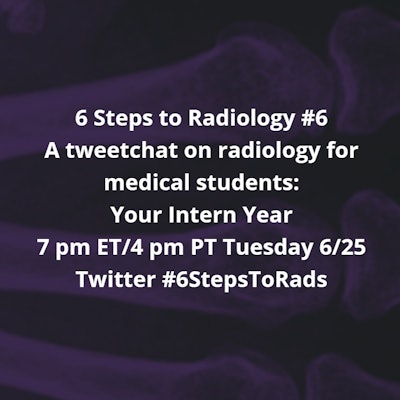 Dr. Nupur Verma is an assistant professor of abdominal and cardiac imaging, the director of abdominal CT, and the director of critical care imaging for the department of radiology at the University of Florida College of Medicine.