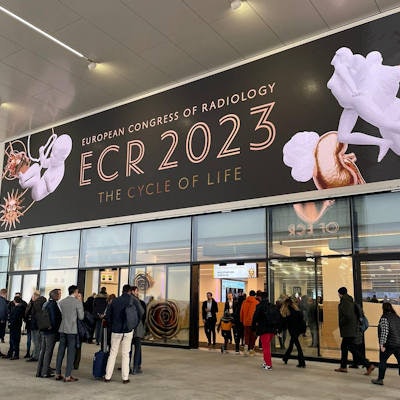 ECR 2023 circled back to its favorable prepandemic timing of early March, and as expected, attendance increased by 14% compared to the 2022 summer edition. In total, there were 17,262 in-person attendees from 122 countries; however, attendance did not reach prepandemic levels of just over 23,000 attendees.
There was notable presence of new exhibitors on the show floor, such as Chinese vendor United Imaging, as well as an absence of conventional exhibitors, such as Shimadzu and Hologic. Speculation loomed that the disappointment in attendance, as well as the revised layout from ECR 2022, could have resulted in some reluctancy from vendors to commit to taking up large booths, especially as economic headwinds continue to challenge the medical imaging market. Below, we outline some of the leading themes at the show identified by our analyst team.
Sustainability
The global healthcare market contributes 4% of total carbon dioxide emissions, with imaging a substantial contributor. With healthcare providers increasingly concerned about the energy crisis and environmental sustainability, many medical imaging vendors focused their efforts on how best to decarbonize radiology. Heightened energy prices, and thereby operational costs for healthcare providers, resulted in modality vendors keen to showcase new sustainability features on imaging equipment.
For example, energy-saving modes on large new imaging modalities, when the systems are idle between examinations, could save up to 40% of energy consumption per scan compared to the existing fleet of installed systems. Moreover, new research initiatives were announced, including "metering" CT systems in the U.K., thereby better understanding real-world application and identifying where energy consumption could be improved.
Other themes included continued demonstrations of how healthcare providers can benefit from long-term value of their investments such as smart subscriptions, or lifetime value through long-term managed contracts, in which core system components may not require replacement. New MRI technology at the show touted up to a 70% reduction in helium consumption, as well as a focus on ensuring the long-term viability of coils and reuse of MRI magnets when providers upgrade to new systems. New manufacturing initiatives were also highlighted, with vendors keen to showcase green credentials in terms of production of equipment, in terms of design, materials, and carbon footprint.
Connected systems
On the back of a frenetic period during COVID-19, many healthcare providers have had limited time to focus on modernization strategies for radiology services, especially as pent-up demand and staff shortages have put huge pressure on providers. Medical imaging vendors at the show were at pains to position themselves as long-term collaborative partners, whether this be through their service offerings, ongoing training services, or strategic consulting support.
A key theme tied to this partnership approach was "connected systems." One foundational facet of this was supporting the ongoing shift to remote servicing of modalities. COVID-19 had accelerated the number of servicing cases done remotely, with an estimated 40% of servicing performed remotely today. Additionally, software packages with analytics providing real-time monitoring of modality and staff performance across multiple sites were also on show, intended to help imaging service stakeholders better manage their fleets and ensure increasingly overstretched resources are deployed most effectively.
Some solutions on show included predictive tools, helping imaging service-line managers to support operational planning and better react to peaks of demand, or to look to improve system optimization by identifying patterns causing patient "no shows." Commonly, these solutions are deployed alongside vendor consulting services and managed service contracts, embedding specialists from modality vendors within healthcare providers to support meeting specific performance or operational targets. This also helps vendors leverage this close relationship to broker new deals and tailor their offering to each provider.
Smarter workflows
Artificial intelligence (AI) continues to be integrated across the entire workflow, from examination preparation to acquisition and from reconstruction and postprocessing. While much has been debated over the role of AI in postprocessing and image analysis, which was also on show in the dedicated AI showcase and forum, AI was also a headline at ECR in terms of supporting and improving imaging acquisition.
Noticeable demonstrations at ECR 2023 included AI being used to track patient breathing and movement within the bore or gantry itself; use of AI to reduce scatter in x-ray imaging; automation of patient positioning to provide consistent outcomes; and deep-learning reconstruction. AI is being used by modality vendors to improve the quality and speed of imaging services, reducing the need for re-scans and improving the quality and safety of imaging (especially for scans requiring radiation dose or use of contrast agents). This addresses many of the challenges facing healthcare providers in terms of high-demand for services, but also shows that AI is increasingly being viewed by modality vendors as an important differentiator alongside the traditional "hardware-based" innovations.
In particular, protocol management solutions to harmonize protocols across a fleet of systems was a prominent theme. "One-click" scan setup was also a widely touted feature of new systems. Typically, setting up CT and MRI systems for scans, especially more complex protocols, can take substantial technician time, sometimes as much as 15-20 minutes per scan. Leveraging information from the RIS and automated patient positioning technology, new modality workstation and on-gantry software can support much faster set-up, in many cases down to a single "click". This not only saves technician time but also allows scheduling scan appointments closer together, providing a tangible improvement in scan-throughput for a provider.
Protecting, retaining, and supporting the radiology workforce is more fundamental than ever for healthcare providers against the backdrop of staff shortages. Whether this be by assistance in caseload prioritization through embedded AI at the point of care, one-click examinations or by AI-powered smart protocolling, intelligent systems to limit the reliance on the operator experience or expertise, these are themes we expect to see recurring through shows in this year and into next.
What's next?
As well as demonstration of the above across imaging product lines, medical imaging vendors are predicted to further showcase how their systems can be even more efficient, ergonomic, and intelligent this year and into RSNA. AI is expected to not only proliferate in diagnostic imaging, but also in image-guided therapy applications, such as in interventional cardiology. Within the CT market, photon-counting CT is expected to have strengthened further clinical validation and evidence with growing commercial traction and more installs.
We also expect to increase focus from healthcare providers and vendors on screening, exemplified by the growing focus at ECR 2023. Lung screening in particular is gathering momentum in Europe, which will have substantial influences on x-ray, CT, and AI industry segments in the mid-term future.
Additionally, new research supporting the use of imaging and the potential of AI deployment in screening programs to not only support earlier detection of diseases but also highlight incidental findings and early biomarkers of disease, will go a long way to shaping the makeup of the medical imaging industry in the long-term future. Despite the misstep in 2022, this year's ECR pointed to a bright future of innovation, leveraging technology to support efficiency, safety, and improved outcomes for patients and staff alike.
Bhvita Jani is a research manager at Signify Research, an independent supplier of market intelligence and consultancy to the global healthcare technology industry. Signify's major coverage areas are healthcare IT, medical imaging, and digital health.
The comments and observations expressed do not necessarily reflect the opinions of Auntminnie.com or AuntMinnieEurope.com, nor should they be construed as an endorsement or admonishment of any particular vendor, analyst, industry consultant, or consulting group.