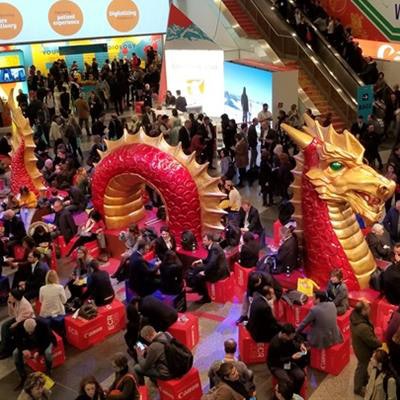 The huge red dragon that dominated the registration area of ECR 2018 looked amazing in everybody's photos, but what were the lasting impressions and meaningful issues to take away from this year's congress in a decidedly chilly Vienna? Our editorial team has put together a list of the five key themes.
1. AI explosion is being felt everywhere
Reflecting the surge of interest in artificial intelligence (AI) for radiology applications, ECR 2018 featured a significant increase in AI-oriented educational content. Those who traveled to frozen Vienna -- or watched remotely online -- were able to take in a wide range of fascinating talks on big-picture issues, as well as a plethora of presentations on the latest research.
Experts emphasized AI's potential for improving the efficiency and productivity of radiologists, enabling them to deal with an increasing workload. By taking care of much of the drudgery and automating routine tasks, AI may also free up radiologists to get more involved in patient care, working even more closely with clinicians. Many speakers believe that taking on a higher-profile role in the clinical care team will benefit patients and also ensure the survival of the specialty. Initial concern over the dire warnings, mainly by some AI luminaries outside of healthcare, that AI would soon replace radiologists has largely given way to excitement over the technology's promise for enhancing radiology and augmenting radiologists, not displacing them.
It's important to remember AI's not just for image analysis. Deep-learning algorithms are poised to benefit the entire imaging process, including speeding up scanning times, lowering radiation dose, and enabling optimized patient imaging protocols. What's more, fully automatic image processing can facilitate greater use of quantitative imaging -- a crucial tool for personalized medicine. AI also may uncover new imaging biomarkers that can't be seen with the human eye.
AI can prescreen imaging studies to highlight urgent cases for radiologists to review and provide decision support to radiologists during the interpretation process. AI can also help detect and characterize disease, such as differentiating lung nodules on CT scans, and may lead to new radiology indications, such as estimating stroke onset or predicting patient survival.
"I am convinced that AI is not a threat but a tool that we can use to support our work and to improve results," noted ECR 2018 President Dr. Bernd Hamm in his welcome to delegates. "The radiologist's job has constantly changed in the past and will continue to do so in the future. For one thing, the amount of data we are dealing with is ever increasing. AI will help us to cope with this workload and make optimal use of the data in our daily routine."
Significant challenges remain, however. The lack of access to large, reliable datasets for training algorithms remains the most pressing problem, while other tricky issues include the "black box" nature of many deep-learning algorithms and the current lack of an ecosystem to support the creation, integration, and adoption of AI algorithms. Algorithms also have to be integrated into radiology workflow and need to be tested to ensure they're effective in different hospitals and on images produced by equipment from different vendors.
Much work needs to be done before AI can be used regularly during radiologists' clinical routines, but the time is now for radiologists to embrace it. A number of presenters highlighted the importance of engaging with the AI community to help develop and validate these algorithms, as well as to make sure they are targeting the best workflow-enhancing use cases for the technology.
One thing's for sure: The new era of AI won't be business as usual for radiologists. As several ECR 2018 speakers observed, the radiologist who uses AI is likely to replace the radiologist who doesn't.
2. Radiologists are at the forefront of change
AI rippled through the meeting like a pebble thrown in a pond. Every breast session, even those dedicated to other topics, mentioned AI, usually in the form of an offhand comment. Radiologists asked over and over, "Will robots replace us?" reflecting the current anxiety of the new technology looming on the horizon. The resounding answer was "No."
"We're not getting replaced," said Dr. Elizabeth Morris, past president of the Society of Breast Imaging and a breast radiologist at Memorial Sloan Kettering Cancer Center in New York City. "AI is going to help us use these biomarkers to be better, to be predictive, and to prognosticate better for our patients."
The biomarkers to which she referred are anything that can be measured in the body or the body's products -- for example, background parenchymal enhancement. Part of the reason why radiologists won't be replaced is due to their role in using these biomarkers, which folds into genomics -- in other words, genetic sequencing. Morris spoke of "one of the most revolutionary periods in medicine," adding that we're in the "genomics revolution," where we can sequence the genomic information in tissue and also blood. The information gives radiologists a sense of who's at high risk for certain diseases and also the treatment required for certain tumors. Tumors are genetically often different from each other -- some don't have much heterogeneity while others do.
"This concept of intratumor heterogeneity wasn't really understood until we were able to sequence all of the genetic information in the tumors," Morris said. "Why does it matter? A lot of the current therapies that we give for cancer may be inadequate, and we may be treating the wrong genetic abnormality." Cancers are smart and adapt rapidly, so drugs that worked before no longer suffice, she continued.
Radiologists must understand what's happening not only genetically but also from a treatment perspective, and this will help them to interpret images better. It will also make radiologists more relevant in giving information about the overall treatment process.
"If you look to see the fields in the next 20 years, what is going to propel our economy, a lot of it is related to big data, genomics, cybersecurity, digital currencies, and this is the field we're going to be playing in as radiologists," she said. "It's very important for us to understand the terminology, because our field is rapidly moving in this direction. Probably out of all fields of medicine, we're going to be at the forefront of this change."
3. The gadolinium controversy's not going away
A few days after ECR 2017, the European Medicines Agency (EMA) recommended that four gadolinium-based contrast agents (GBCAs) for MRI scans be pulled off the market due to concerns about gadolinium remaining in the body years after scans occur. The agents affected included some of the most widely used contrast products in medical imaging. But it was apparent at ECR 2018 that the matter has not been resolved.
The U.S. Food and Drug Administration has taken a very different view on the safety of GBCAs, and there is no sign of a consensus being reached between the U.S. and European regulators, Dr. Alexander Radbruch said in an ECR 2018 video interview. Radbruch, who is both a radiologist and a lawyer, sincerely hopes that U.S.-style lawsuits will not be filed in Europe, but given how well organized some of the global patient groups are nowadays, this scenario cannot be ruled out.
Many studies into gadolinium retention are now underway, but it could take 10 years or more before the publication of reliable safety data. Until then, nothing is going to be resolved fast, and radiologists will have to reassure patients and answer their queries as well as they can. Radbruch reports that some patients at his facilities in Heidelberg and Essen, Germany, have refused MR scans due to safety worries, and this is likely to happen increasingly often in the future.
4. MRI without gadolinium becomes feasible
Given the concerns about GBCAs, an increasing number of researchers are investigating the diagnostic quality of images without media. More specifically, several ECR 2018 presentations showed and subsequently recommended that clinicians consider omitting the use of a GBCA for certain follow-up MRI scans when a primary diagnosis already has been established. The potential clinical applications range from the breast and the head and neck to the inner ear and some pediatric exams.
While MRI may be considered a very mature imaging technology, researchers also continue to find ways to advance the modality. Italian researchers showed a new type of diffusion-weighted imaging for breast MRI. Field-of-view optimized and constrained undistorted single-shot (FOCUS) identified as much as 85% of suspicious breast lesions. Accelerated MRI techniques also have made 10-minute scan times possible for abdominal imaging.
MRI is expanding its utility into neurology with applications for mild cognitive impairment, dementia, and Alzheimer's disease, but a continent-wide survey conducted by the European Society of Neuroradiology (ESNR) has found some room for improvement among clinicians. The poll found that many neuroradiologists feel uncomfortable using advanced imaging, structured reports, or visual rating scales to diagnose neurological disorders, in part because they perceive the tools as time-consuming or they are simply not available.
Reflecting the growing influence of AI in MRI, a new app developed by Danish radiologists is helping pediatric patients between 4 years and 9 years of age to better handle their scans. The app communicates with the kids on their cognitive level to expect with their pending experience.
5. Brexit's the elephant in the room
It's ironic that the U.K.'s planned departure from the European Union (EU) is going to fall during the same month as ECR 2019: March.
Brexit barely featured in the scientific program of ECR 2018, but it was significant that Hamm reflected on the issue in his welcome to delegates on the front page of the Wednesday edition of ECR Today, the congress's daily newspaper by the European Society of Radiology (ESR).
"Considering the U.K. vote to leave the EU, we have to admit that this certainly affects Europe and the European community," he wrote. "This is unfortunate, but the ESR and the scientific community are beyond politics, and we will further strengthen and develop international cooperation and relationships. Brexit poses no threat to the ESR, but an opportunity to prove that science does not know borders."
Hamm's advice is to keep calm and carry on, but this will be much easier said than done in the years to come. London has already lost the European Medicines Agency to Amsterdam, and U.K. researchers will be hit hard by the loss of EU funding. Some of the country's best scientific minds are likely to be lost to North America and Australia -- and this will be Europe's loss.
In a video interview during ECR 2018, Dr. Nicola Strickland, president of the Royal College of Radiologists, conceded there was a strong risk of U.K. radiology being marginalized within the ESR because the country will no longer be regarded as "truly European." She is not being melodramatic here. Without doubt, Strickland is one of radiology's clearest thinkers and most measured and balanced individuals.
The U.K. has been an important and active contributor to ECR and ESR for more than two decades in terms of congress attendees, speakers, and moderators, as well as senior officials such as Drs. Andy Adam, Helen Carty, and Iain McCall. But the future prospect of the country being sidelined looks both real and stark. It's anybody's guess right now whether there will be another U.K. president of the ESR after Brexit.
By the start of ECR 2019, the whole Brexit situation will become much more certain, but in the meantime, questions remain. What guarantees can be made to EU nationals working in the U.K.? Will the European Diploma in Radiology be recognized? Will the U.K. leave the European Atomic Energy Community (Euratom), thereby risking the future supply of radioisotopes and endangering patients?
The Brexit elephant looks set to remain in the room for years to come.