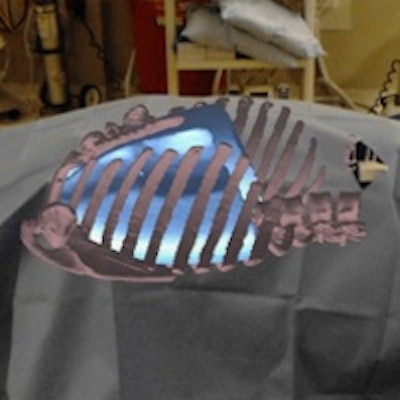 CHICAGO - Wearable visual overlay devices such as Google Glass and Microsoft's HoloLens may offer value in a number of radiology applications, according to a poster presentation at the 2016 RSNA meeting.
A team from the University of Maryland found, for example, that HoloLens could be used to view holograms that were created from DICOM data and then coregistered on the patient for image-guided interventions. In addition, HoloLens could serve as a small-footprint mobile radiology workstation that offers much more inputs than the conventional three-monitor display, said presenter Dr. Vikash Gupta. What's more, Google Glass can be used to display the field-of-view during ultrasound procedures.
"Wearable devices are an emerging technology with the potential to change how we practice diagnostic and interventional radiology," Gupta told AuntMinnie.com.
Enhancing radiologist functions
Glass is an augmented-reality device that was available from February 2013 to January 2015. It was sold for $1,500 per unit and processed input from voice commands and a limited button interface.
HoloLens is a mixed-reality device; a developer version of HoloLens was released in March 2016 and costs $3,000 for the unit and $5,000 for the commercial suite. It supports input from voice commands, air gestures, and a limited button interface. Both units can capture video from a first-person perspective.
"Google Glass and Microsoft HoloLens have unique strengths and weaknesses, making them ideal for specific use cases," the researchers wrote in the poster presentation.
These types of wearable devices offer the potential to enhance many radiologist functions, such as image interpretation, interventions, communication, and education, according to the group.
The devices can provide an integrated and seamless way of receiving supplementary information such as a patient's chart while viewing imaging, for example. Other possibilities include the ability to review multiple studies without being confined to a reading room or being able to review 3D anatomy in an instinctual manner, according to the researchers.
In interventions, wearable devices could enable radiologists to review a patient's chart in a sterile, noninvasive manner. They could also make use of overlay imaging to guide procedures, according to the team.
Wearable technology can also facilitate communication, allowing radiologists to explain 3D relationships to referrers in an easy-to-understand format, the researchers said. In addition, the devices could ease collaboration with fellow radiologists and consultants.
In educational applications, wearable devices can provide learners with a first-person perspective on how to perform procedures and review imaging. What's more, the technology could be used to enable better procedural oversight, according to the researchers.
Potential radiology applications
The University of Maryland researchers specifically created a method that used Google Glass to display real-time ultrasound images and HoloLens to display medically derived holograms.
These two applications, which are intended to facilitate image-guided interventions, were evaluated by three resident/fellow-level radiologists. They assessed the applications on their ease of use, ergonomics, and ability to facilitate image-guided procedures.
"Our group found that both applications have the potential to drastically improve how these procedures are performed," Gupta said. "The adoption of these devices will be contingent on further hardware refinement, but the potential is very evident."
In addition, the researchers explored the use of HoloLens as a virtual display console that can facilitate both diagnostic and interventional radiology.
"Our three-radiologist team found that although the device has potential to augment both of these functions, HoloLens is currently not ergonomical for prolonged use," Gupta said.
Wearable technology offers "tremendous potential to change the way we practice radiology," the researchers concluded.