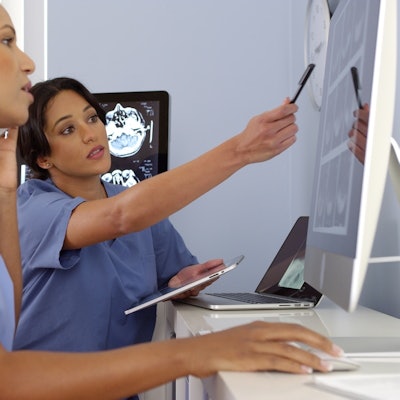 Display firm LG Business Solutions USA is showing two prototype display monitors and a prototype digital x-ray detector at RSNA 2022.
One of the new monitors is a 55-inch 4K in-plane switching (IPS) surgical monitor with 650 nits of brightness. Its largest surgical monitor designed to date features multiple inputs and outputs to accommodate flexible installation scenarios, antireflection and antifingerprint coatings, a 178-degree viewing angle, and protection against liquid and solid foreign objects.
The second prototype is a 32-inch diagnostic monitor prototype with an 8-megapixel IPS display, 1,000 nits of brightness, and a 2,000-to-1 contrast ratio. Features in development include an integrated front sensor and luminance sensor, an anti-glare screen, three-way tilt/height/swivel adjustments, built-in calibration software, an exclusive screen manager that enables onboard control, and 17 available languages for on-screen menus and tools.
The third prototype shared by the company was a 14-inch portable battery-powered digital x-ray detector that can connect wirelessly to a PC. The battery will have built-in autoexposure control to provide readings of total radiation received and auto-shutoff when certain thresholds are reached.