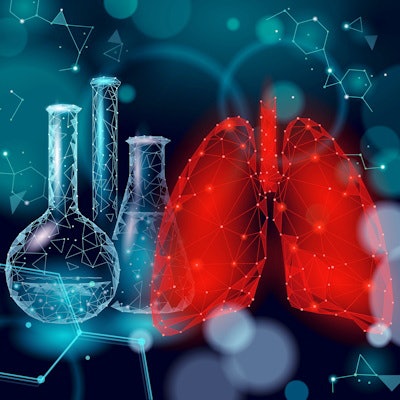 Chest x-ray artificial intelligence (AI) algorithms could be effective triage tools for tuberculosis (TB) screening in prisons, according to a study published in the January issue of the Lancet Regional Health -- Americas.
An international team led by Dr. Julio Croda, PhD, of the Federal University of Mato Grosso do Sul in Brazil tested three commercially available chest x-ray algorithms as initial screening tools for TB in three prisons. Two of the three algorithms met World Health Organization (WHO) requirements for a triage test, the group found.
"Globally, tuberculosis incidence in prisons is more than 10 times higher than the general population," Croda and colleagues noted. "Interventions to address this growing burden are urgently needed."
The researchers included TB screening exams from a previous study in incarcerated individuals at three male prisons in Brazil from October 2017 to December 2019. All individuals underwent portable chest x-ray exams, with sputum collected to confirm TB by lab tests. The images were evaluated individually using CAD4TB v6 (Delft Imaging Systems), Lunit Insight CXR2 v3.1 (Lunit), and qXR v3 (Qure.ai), with results compared for accuracy.
Among 2,075 incarcerated individuals, 259 (12.5%) had confirmed TB. In these individuals, all three algorithms performed similarly overall with areas under the receiver operating characteristic curve of 0.88 to 0.91, according to the findings.
At 90% sensitivity, only Insight CXR2 and qXR met WHO requirements for a triage test, with specificities of 84% and 74%. All algorithms had variable performance by age, prior TB, smoking, and presence of TB symptoms, with Insight CXR2 being the most robust to this heterogeneity, the researchers noted.
"Tuberculosis screening by chest x-rays with automated interpretation algorithms, followed by confirmatory testing using molecular diagnostics, may be an efficient means to improve case detection among incarcerated populations," they wrote.
Ultimately, prisons worldwide are high-risk settings for TB, yet case detection remains poor, and investments in active case finding are limited, the authors noted. In these high-burden settings, screening by mobile x-ray systems with AI algorithms may at least reduce the number of confirmatory tests required, the authors suggested.
However, even with the commercial availability of automated interpretation algorithms, the cost of implementing a system for mass screening in prisons is still unclear, they wrote.
"Further studies are needed to quantify the costs of these components and evaluate the cost-effectiveness of mass screening programs utilizing x-ray automated interpretation," the group concluded.