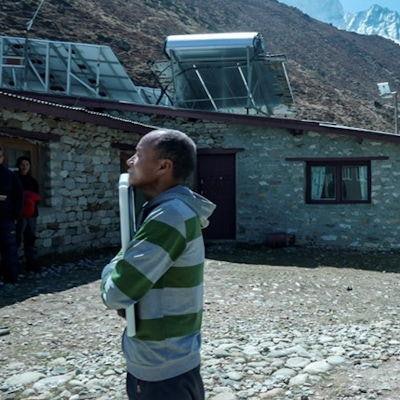 Mike Cairnie of portable x-ray developer MinXray has earned a world record for acquiring a portable chest x-ray of a patient last year on Mt. Everest in Nepal.
"The highest altitude operating an x-ray machine is 5,364 m (17,598 ft) and was achieved by Michael Cairnie (USA), in Mount Everest Base Camp, Khumjung, Nepal, on 21 April 2022," the Guinness World Records announcement reads.
Cairnie, described by radiologist and colleague Dr. Saurabh Jha in an interview with AuntMinnie.com as "the Indiana Jones of radiology," is MinXray's director of global and military sales. The pair made the trek up Mt. Everest last year along with several other colleagues leading Project Khumbu, a proof-of-concept initiative to increase access to imaging in remote areas in Nepal.
Cairnie told AuntMinnie.com that the deployment in Nepal is one of the highlights of the company's efforts to test the portable x-ray machine in remote regions so far in more than 60 countries. People who have medical emergencies in remote locations simply have not had access to the technology, he said.
"We can deploy this system in a simple backpack configuration and have the power and durability to get these machines where they need to go," Cairnie said.
Jha, an associate professor at the University of Penn at the University of Pennsylvania, said the inspiration for Project Khumbu came from days hiking the hills in Nepal, Tibet, and Northern India as a youth.
"I vowed to return, not as a backpacker pushing the boundaries of a miserably low budget, but as a physician pushing the boundaries of medical imaging," he said.
The record achieved during the project is also notable for artificial intelligence (AI) developer Qure.ai, whose software is installed on the battery-powered digital radiography system. The software can automatically generate chest x-ray interpretation reports and identify tuberculosis, chronic obstructive pulmonary diseases, lung cancer, and medical emergencies such as lung collapse, for instance.
Project Khumbu is a partnership between academia, private industry, NGOs, and local physicians, Jha noted.
"Taking an x-ray enabled by AI at Everest base camp is both metaphorical for the possibilities of radiographs and AI in remote areas, and a benchmark for the boundaries that we must continuously push," he said.