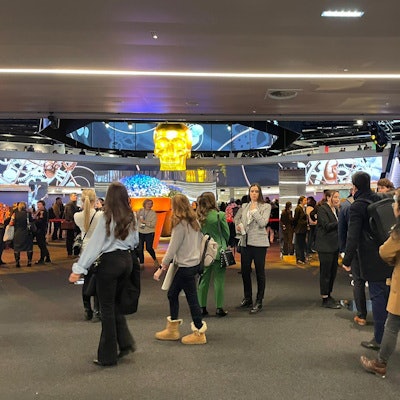 More data and larger clinical trials are needed for artificial intelligence (AI) to take the next steps toward everyday clinical workflow and showing meaningful patient outcomes, experts suggested March 1 at ECR 2023.
Presenters discussed AI's current role and potential to do more in oncologic imaging, such as early response prediction in imaging tumors considered for surgery versus chemotherapy. They also talked about what's needed to increase its presence and reliability in this space.
"The methodology is there, but in order to make an impact, it is about execution," said Dr. Wiro Niessen from University Medical Center Rotterdam in the Netherlands. "There is some potential for AI-supported screening, but at the moment, I think the algorithms are still trained and optimized too much in isolation. We need to connect these multicenter efforts and projects."
AI in radiology continues to be highlighted in research, with thousands of mostly smaller, single-center studies showing the technology's ability to detect tumors and differentiate between malignant and benign lesions. Despite the wide availability of such data, there are not many commercially available technologies available for ready integration into clinical workflows.
"The issue is always data. Reproducibility is also kind of an issue," said Dr. Daniel Pinto dos Santos from the University Hospital of Frankfurt in Germany. "Studies are not ideally reported, so we can't actually see if we can reproduce that [data] or not. I think there's a lot of room for improvement."
Radiomics, meanwhile, have also been explored, taking features from images and characterizing tumor patterns. Research has shown that when combined clinical data, radiomics shows higher area under the curve values. However, they are still not ready for everyday clinical use, the researchers suggested.
Niessen said that while many good papers exist in the current literature, the research is not yet executed at the level to make a large impact.
"To build a radiomics classifier, we have to increase the data and do a validation of larger, external datasets," he said.
Dr. Ramona Woitek from the University of Cambridge meanwhile suggested that response evaluation for patients undergoing cancer treatment can benefit from automated segmentation and subsegmentation. She added that multiomics data integration could improve response prediction.
"When we think about deep learning, we should not only be thinking about convolutional neural networks, but also about using neural networks for improved integration of multiple datasets," she said. "There is evidence that incorporating heterogeneity metrics could improve these predictions in response to treatment and outcomes tremendously."
So, what's needed for AI to successfully take the next step from the lab to the clinic? Several things, the experts said. These include high-quality data using state-of-the-art methods that also avoids bias and use health data infrastructures, clearly defined tasks, seamless integration into workflows in ways that complement the work of radiologists, and proper validation strategies.
"Many promising algorithms may not function as well in clinical practice as reported in literature," Niessen said.
Santos added that AI should ultimately lead to better patient outcomes and that measuring such outcomes should be a next step for AI as healthcare systems seek to integrate it into workflows.
"Just the fact that it [AI] is available and that it works...doesn't necessarily translate to better patient outcomes," he said. "It doesn't even necessarily translate to better diagnosis by physicians. There's a vast amount of literature out there, but what we need to do now is really try to translate that into clinical routine and see how it benefits the patient."
However, the experts also looked to the possible future from an optimistic standpoint when it comes to AI in clinics.
"If we had reliable tools that could allow us to evaluate response at an early time in the patient's treatment journey, we may be able to deescalate treatment," Woitek said. "It may even be possible to skip surgery if we can reliably say there's no invasive tumor or carcinoma left."