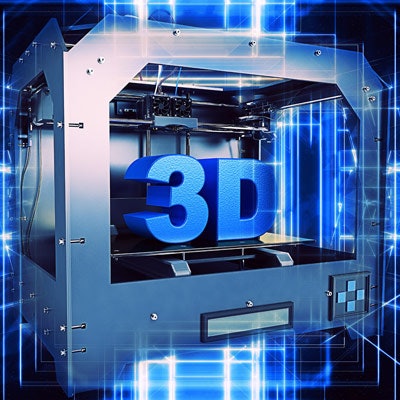 Three-dimensional printing has spread from craniomaxillofacial surgery to a wide range of medical disciplines, and it can help demonstrate the value of radiologists in a future with artificial intelligence and machine learning. That's the view of Dr. Philipp Brantner, joint head of the 3D Printing Lab at the University Hospital of Basel in Switzerland.
"We don't know what the future will look like, but I think we will be faced with a very different way of working," he said. "3D printing might be a useful extension to add value to existing imaging techniques."
His talk today at ECR 2019 covered established and emerging surgical applications of 3D printing. These include creating a 3D model of a fractured bone or kidney to help plan minimally invasive procedures.
"3D prints help surgeons get a closer understanding of the anatomical situation they're about to see," Brantner noted. "In the operating theater, they don't have the field-of-view like radiologists do with cross-sectional imaging, so a 3D representation can give a better road map to a tumor, for example."
The future role of radiology might be to expand existing imaging services to include the creation of 3D models, and radiology is perfectly positioned to incorporate this technology into clinical routines because it lies at the crossroads of many disciplines and takes the technological lead within hospitals. Surgeons need radiologists to advise them on the limits of 3D printing and to choose the correct imaging protocols for 3D printing because the accuracy of the underlying image controls the fidelity of the resulting anatomical representation, he commented.
Advising surgeons on the applications of 3D printing is part of Dr. Francesco Moscato's work at the Medical University of Vienna. Moscato, who is an associate professor at the Center for Medical Physics and Biomedical Engineering, cooperates with a wide variety of surgeons and specialist radiologists to apply 3D printing to medical problems.
"Usually, the clinician comes with a very diverse set of wishes and thinks the technology can solve everything, and we have to spend a couple of meetings to understand what they want and what we can offer," he explained.
Moscato, who is primarily a university researcher, usually deals with difficult cases where a surgeon has a problem with a specific procedure or a desire to improve it. He has obtained a research grant to study patients at risk of thromboembolic complications by using CT scans to create transparent silicon casts that can be used to visualize and study intracardiac flow.
Among his cases was a patient with a hard-to-find paravalvular leak around the mitral valve. The hole was hard to find, and the patient had an unsuccessful procedure to close it. "We printed a model, and it turned out there were three possible holes, the largest of which was not a straight hole from the atrium to ventricle," Moscato said. "The interventional cardiologists could then plan the procedure and finally successfully treat the patient."
He is also helping a colleague who works in hybrid multimodality imaging by creating anatomical phantoms to help them find and quantify distortions and artifacts in CT and PET. However, one of the biggest challenges to implementing a 3D printing lab is securing funding, he noted.
"We rely on research grants to have staff'; we don't have the hospital pay somebody to do the 3D printing process because 3D printing in our center is not institutionalized yet," explained Moscato, adding that he is trying to establish 3D printing as part of the clinical routine.
The challenge of ongoing funding also affects Dr. Karen Eley, a clinical lecturer in radiology and lead on the project to establish a centralized 3D printing lab located in the media studio at Addenbrooke's Hospital in Cambridge, U.K.
"We were funded entirely by charitable money, which included the initial salary costs of our dedicated 3D printing technician. Ongoing salary costs are now having to be supplemented by him taking on additional roles in the media studio," she explained.
At today's session, Eley discussed the benefits of setting up a centralized 3D printing lab. Avoiding the high cost of duplicate equipment and consumables is the biggest benefit, especially in the U.K.'s National Health Service. Another advantage of a centralized facility is having a dedicated technician who specializes in 3D printing.
"The 3D printing technician is the most valuable person in the lab," she said. "If we lost him, the service would be lost because no one has any spare capacity to take on these additional tasks." The technician saves radiologists time doing routine image segmentations, allowing them to focus on the more specialist and complex parts of their job. He also ensures the equipment is maintained to a high standard and keeps abreast of U.K. regulations.
Other benefits include information sharing and easy commissioning of services. The lab is a hub in the hospital where clinicians from multiple specialties can discuss ideas and get feedback on projects. Because the lab is integrated into the hospital PACS, surgeons can easily commission 3D print jobs for work -- or for training purposes -- via a centralized form.
Yet, despite the benefits, Eley said some people in the hospital are still unaware of the 3D lab and its services. In addition, some clinicians feel it would be faster to implement their own cheap printer rather than using the centralized lab.
In general, the benefits of 3D printing still need to be proven in some specialties, according to Brantner. He is running trials to see whether the technology brings quantifiable benefits to surgery -- an important step to securing acceptance and funding. He is also looking at whether, for example, a 3D model can reduce the time taken for orbital fracture surgery. Early results look promising. Printing an orbital mesh before surgery can reduce by 30% the time spent in the operating room.
Originally published in ECR Today on 28 February 2019.
Copyright © 2019 European Society of Radiology