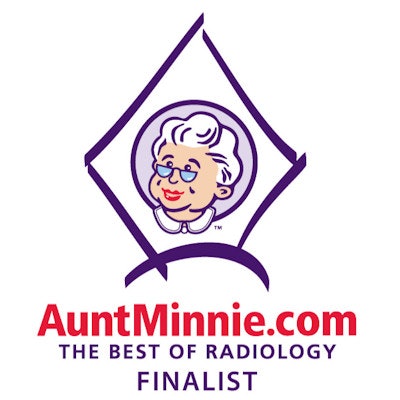 Below is a list of the finalists for the 2018 edition of the Minnies, AuntMinnie.com's campaign to recognize the best and brightest in medical imaging.
The finalists were drawn from a list of 220 semifinal candidates in 14 categories, based on nominations submitted by members of AuntMinnie.com. To see the full list of semifinalists, click here.
One winner will be selected for each category by our expert panel, with final winners announced in October.

Most Influential Radiology Researcher
Willi Kalender, PhD, Friedrich-Alexander University Erlangen-Nuremberg
A legend in CT instrumentation, Willi Kalender, PhD, has been the driving force behind a number of major leaps in CT scanner design, and he continues to maintain an active role in both education and research.
Kalender began his education at the University of Bonn in Germany, then received his master's and doctoral degrees in medical physics at the University of Wisconsin in the 1970s. He worked in the research labs at Siemens Medical Solutions (now Siemens Healthineers) from 1979 to 1995.
It was during this time that Kalender helped to develop innovations such as volumetric spiral CT by combining continuous data acquisition with a slip-ring design that enabled patient data to be continuously transmitted from the scanner while the gantry continued to rotate. This led to a sharp reduction in exam time and a big increase in image quality, and it paved the way for CT to become the workhorse modality of radiology.
Kalender also performed early work in dual-energy CT and metal-artifact reduction protocols, and later in his career he began focusing on CT radiation dose reduction, which has become increasingly important as the power of multislice CT scanners grows.
In recent years, Kalender's focus has been on breast CT, which he believes has the potential to outperform both full-field digital mammography and digital breast tomosynthesis (DBT) at comparable radiation dose levels. He has been involved with German start-up company Advanced Breast-CT (AB-CT), which is developing the nu:view dedicated breast CT scanner using photon-counting detectors.
Dr. Andrew Rosenkrantz, New York University
This New York radiologist's prodigious output of research papers over the past several years raises just one question: When does this guy ever sleep?
An abdominal radiologist at NYU Langone Health, Rosenkrantz is also director of health policy for radiology at the university, and he has made economic issues that affect radiologists his bread and butter. For example, two recent papers have taken a look at the value of second image interpretations, in particular the need for insurance reimbursement for these follow-up reads, which Rosenkrantz has found can frequently lead to a change in patient management.
He has also studied the issue of diversity in radiology, such as whether incentives are needed to attract more women to radiology, both in the general workforce and in academic research. The geographic distribution of radiologists has been another focal point of his investigative work, in particular, why some areas of the U.S. -- usually rich and urban -- experience surpluses of radiologists while other areas -- typically poor and rural -- have shortages.
But Rosenkrantz also keeps up a high output of research papers on clinical topics, with a particular focus on multiparametric MRI of the prostate.
Most Effective Radiology Educator
Dr. Tessa Cook, PhD, Hospital of the University of Pennsylvania
With training in both computer science and medicine, Dr. Tessa Cook, PhD, has been heavily involved in the rapidly evolving field of imaging informatics.
Cook is a frequent fixture at the Society for Imaging Informatics in Medicine (SIIM) annual meeting, where she is also a director, and she is a co-developer of the National Imaging Informatics Curriculum and Course, a weeklong online course scheduled for October 9-12 that is designed to introduce senior residents to the fundamentals of imaging informatics.
A project that's dear to Cook's heart is the RADxx initiative, which aims to increase opportunities for women in imaging informatics. Cook serves as a member of the RADxx steering committee.
Even with her involvement in educational activities, Cook still finds time to perform research. Within the past year, she has published papers on geographic patterns of radiology referrals, the assessment of liver lesions on ultrasound, and the logistical challenges of centralized image databases for screening programs.
Dr. Tan-Lucien Mohammed, University of Florida
Education is Dr. Tan-Lucien Mohammed's passion. He serves as vice chair of education at the University of Florida College of Medicine, but he also maintains an active online presence, offering guidance to medical students considering radiology as their specialty.
Mohammed received his medical degree from Meharry Medical College in Tennessee, and he completed a radiology residency in nuclear medicine and diagnostic radiology at the University of Nebraska Medical Center. He's been affiliated with the University of Florida since 2014.
Mohammed's career is studded with awards and acknowledgements for his work in radiology education -- including three previous appearances in the Minnies. He has also received teacher-of-the-year awards for radiology education at the University of Florida and at the Cleveland Clinic, where he served as a staff radiologist from 2004 to 2012.
His publications also reflect his interests in education, leadership, and team building. For example, he co-authored a paper on the art of persuasion for radiologists that was published August 22 in the Journal of the American College of Radiology, while a January 2018 paper in JACR discussed strategies for assembling effective radiology teams based on the personalities of the individual members.
Most Effective Radiologic Technologist Educator
William Faulkner, William Faulkner & Associates
For almost the past 20 years, William Faulkner has been running his own educational firm, William Faulkner & Associates, to provide training and consulting services in CT and MRI to radiologic technologists. A testament to his longevity in radiology is the fact that he won the Minnie award for Most Effective Radiologic Technologist Educator in 2002.
Faulkner's career in radiology dates back to 1975, when he began working as an x-ray technologist. He began working in MRI in 1985, with the first scanner installed in his hometown of Chattanooga, TN.
He became involved in education after attending a course on MRI for technologists at Huntington Medical Research Institutes in Pasadena, CA; he decided to begin teaching courses at the imaging facilities where he worked as a technologist in Tennessee. Eventually, he decided to dedicate himself to education full time, forming William Faulkner & Associates in 1998.
Faulkner maintains a busy schedule conducting educational courses, which are typically held in Chattanooga, although courses can be viewed via simulcast. Continuing education (CE) credit is available, and the courses are also suitable for technologists studying for certification exams.
Upcoming courses include programs on MRI and CT safety, as well as MRI and CT registry review courses. Faulkner also offers webinars for CE credit.
Aaron Scott, Johns Hopkins Hospital
Aaron Scott came to nuclear medicine almost by accident. He originally intended to train as a physician's assistant (PA), but he was intrigued by photos of nuclear medicine equipment in the front office of the PA program, which also served the nuclear medicine program. After a two-week period shadowing as a nuclear medicine technologist, he was hooked.
Scott is currently the nuclear medicine program director at Johns Hopkins Hospital; prior to that, he was a nuclear medicine advanced associate at Piedmont Healthcare in Georgia. He was president of the technologists' section of the Society of Nuclear Medicine and Molecular Imaging (SNMMI) for the 2015-2016 cycle.
A particular point of emphasis for Scott has been the Nuclear Medicine Advanced Associate (NMAA) degree, the first master's-level degree to be offered in nuclear medicine. Nuclear medicine technologists in the NMAA role act as physician extenders, and they are qualified to perform patient assessment, patient management, and other responsibilities beyond those traditionally assigned to technologists. NMAA degrees are offered on a distance-learning basis by a consortium of universities formed by the University of Arkansas for Medical Sciences.
Scott has found that after some resistance, most physicians he has encountered have warmed to having staff members in the NMAA role, as they do many of the more mundane tasks once performed by doctors, freeing them up to perform other work.
Most Effective Radiology Administrator/Manager
David Poon, University of California, San Francisco
David Poon is an evening shift supervisor at the Parnassus campus hospital of the University of California, San Francisco (UCSF), where he manages an evening shift staff of 15 to 18 radiologic technologists. He's also been heavily involved in technologist education.
Poon graduated from the radiological sciences program at City College of San Francisco (CCSF), which in 2011 won the Minnies award for Best Radiologic Technologist Training Program. He still serves as an assistant clinical instructor for CCSF, teaching an introductory course in radiologic technology to incoming students and mentoring students who want to better understand the profession. He is also an assistant clinical instructor at Foothill College in Los Altos Hills, CA.
In addition to working at UCSF for the past eight years, Poon served for two years as president of the California Society of Radiologic Technologists. He also is a consultant for the protocol management group for the American Association of Physicists in Medicine (AAPM).
Scott Walton, Intermountain Healthcare
Scott Walton has been the imaging manager at Park City Hospital in Park City, UT, for the past five years. Before that he was a radiologic technologist, and even today he still enjoys working with equipment.
A graduate of the radiological sciences program at Weber State University in 2007, Walton first began working in x-ray and CT before moving into an administrative role in 2012. He came to medical imaging after taking a personality test in college that indicated radiology was his ideal field. "I didn't know what it was at first," he said.
Walton fell in love with the field after shadowing at Heber Valley Hospital in Utah for a couple of days a week over the summer. He then applied to Weber State and was accepted.
Ask Walton what he likes most about his job, and he'll tell you it's the feeling of contributing to his community, helping his friends and neighbors. "I love that we provide a service that people really need, in their best and worst moments," he said.
Best Radiologist Training Program
Stanford University, Stanford, CA
This year's battle for Best Radiologist Training Program pits two Northern California schools against each other: Stanford University and the University of California, San Francisco (UCSF).
Located just an hour apart, both schools frequently appear at the top of any list of premier radiology residency programs in the U.S., and it would be hard to find a matchup of more equally matched institutions.
Stanford's radiology residency program last won the Minnie award in 2009, and individual Stanford researchers and educators have frequently appeared on the list of Minnies laureates. With a radiology department chaired by Dr. Sanjiv Sam Gambhir, PhD (himself a Minnies winner for research in 2011 and 2006), the list of Stanford faculty reads like a who's who of radiology luminaries.
Stanford's radiology residency program is led by program director Dr. Payam Massaband, who graduated from the program. It currently trains 10 residents per class. Plus, the program has one of the more interesting Q&A pages the Minnies have ever seen.
University of California, San Francisco, San Francisco, CA
This isn't the first time UCSF has appeared as a Minnies finalist -- indeed, the radiology residency program also reached the finalist stage in 2017, but it narrowly lost to the University of Wisconsin. UCSF was last named the top U.S. radiology residency program in the Minnies in 2008, and also won in 2006.
UCSF has been in the middle of a building boom, with a new campus opening in the Mission Bay area of San Francisco that includes a number of radiology assets. Led by Dr. Soonmee Cha as program director, the radiology residency program touts the university's history of innovation and its role in training leaders in research, teaching, public service, and clinical care.
In August, UCSF's radiology residency program was named the top radiology residency program in the U.S. by physician website Doximity; will lightning strike twice for the program in the Minnies? Only time will tell.