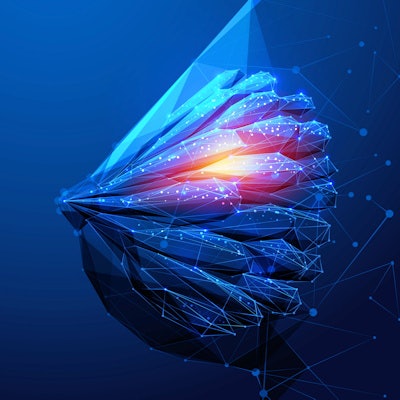 Using radiofrequency identification (RFID) tags to localize axillary lymph nodes is a safe and feasible method for breast cancer treatment, a study out of the U.K. published June 10 in Clinical Radiology found.
Researchers led by Simon Lowes, PhD, from Queen Elizabeth Hospital, Gateshead, in the U.K. found that RFID tags are effective in wireless localization, confirmed by breast ultrasound and two-view mammography.
"The present dataset ... helps support the safe and effective use of RFID tags to localize axillary lymph nodes," the team wrote.
Interest is growing in the use of wireless localization methods for better localization of lymph nodes in breast cancer. The researchers hypothesized that wireless alternatives such as RFID tags could mitigate logistical challenges in breast cancer treatment for both radiologists and surgeons, and that better localization of lymph nodes could help set better treatment strategies for breast cancer patients and avoid overtreatment.
Lowes and colleagues noted that there is little data on wireless localization techniques for axillary lymph nodes, including the use of RFID tags, which can be implanted into the region of interest in the breast. To add to the existing literature they investigated the safety and feasibility of using RFID tags to localize axillary lymph nodes, using an 11 mm by 2 mm passive RFID tag preloaded into a 12-gauge needle system (LOCalizer, Hologic) that is deployed percutaneously using imaging guidance. The group confirmed tag placement via ultrasound and two-view mammography.
Each tag has a unique five-digit identification number that's relayed on a handheld reader. The reader also shows real-time distance between the detector and each tag to the nearest millimeter.
The study included data from the first 75 cases of RFID-targeted axillary nodes inserted between 2019 and 2022; an overall total of 1,296 breast and axillary tags were deployed in 1,120 patients during this time period. The tags were implanted on an average of 11 days before surgery. Breast cancer patients who underwent neoadjuvant chemotherapy had their RFID tags inserted after completing treatment.
Of the 75 axillary tags, 70 showed primary breast cancer and five showed no cancer. Of the 70 tags that indicated breast cancer, 20 prompted neoadjuvant chemotherapy.
The RFID tag deployment had a 100% success rate, the group reported. The team also found that all tags and their respective axillary lymph nodes were successfully removed with no significant complications.
"There were four cases of tag dislodgement during excision, but overall, this did not compromise retrieval of the tag or the node," Lowes and colleagues wrote.
The study authors suggested that based on their results, as well as those of previous studies, the team of clinical specialties treating women with breast cancer should decide together which wireless localization technique should be used, noting that while all wireless devices have their pros and cons, they function well for axillary node localization when it comes to breast lesions.
"As the adoption of these devices gains more momentum and more data emerge, a clear frontrunner may become evident," the authors wrote. "It is equally possible, however, that as technologies are refined and newer devices come to the market, the landscape may change again."
The study can be found in its entirety here.