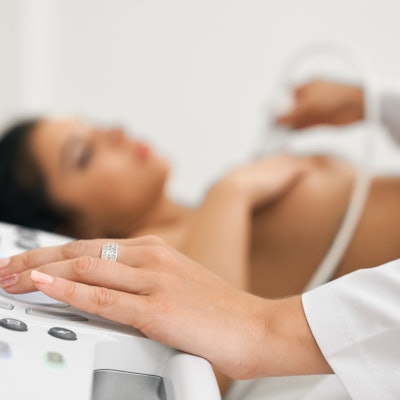 Ultrasound is an accurate standalone breast imaging modality in assessing focal breast complaints compared to the combination of ultrasound and digital breast tomosynthesis (DBT), a study of nearly 2,000 women published April 4 in Radiology found.
Researchers led by Dr. Linda Appelman from Radboud Institute for Health Sciences in the Netherlands also concluded that for cancer detection elsewhere in the breast, DBT has a comparable cancer detection rate to screening mammography.
"Start with targeted ultrasound, and when in doubt, perform DBT or mammography in the evaluation of focal breast complaints," Appelman told AuntMinnie.com.
Focal breast complaints are a frequent problem in women, especially those ages 25 to 44. Imaging is recommended for these women, with mammography or screening DBT being a first-line method and targeted ultrasound following.
The researchers however noted that ultrasound has higher sensitivity than DBT and could be considered from a cost and efficiency standpoint. While ultrasound does not provide an overall image of both breasts like DBT does, it may aid in assessing targeted focal complaints.
In the Breast US Trial (BUST), Appelman and colleagues flipped roles for the modalities, using ultrasound alone first for diagnostic workup of women with localized symptoms, as well as evaluating the supplemental value of DBT. They looked at data collected between 2017 and 2019 in 1,961 women with an average age of 47 years. Most of the women were between the ages of 30 and 50.
The researchers found that 1,587 women (81%) had normal or benign findings and 1,759 (90%) had a definitive accurate diagnosis based on initial ultrasound alone. During initial workup, 204 breast cancers were found. Additionally, malignancy frequency was 10% with ultrasound, which had a sensitivity of 98.5% and specificity of 90.8%. Appelman added that the negative predictive value was 99.8%.
"This means that based on targeted ultrasound solely, the study shows that the breast radiologists are quite capable of ruling out breast cancer, with or without histopathological examination on indication of the radiologist," Appelman said.
DBT, meanwhile, showed three unobserved malignant lesions at the complaint site. Also, eight additional malignant findings were detected on DBT outside the location of the complaint. The study authors wrote that this is similar to findings of previous retrospective studies assessing mammography.
Appelman said ultrasound has several advantages. These include higher accessibility, non-use of ionizing radiation, cost-effectiveness, usefulness during breast biopsies, and more comfort for women undergoing examinations.
"Last but not least, ultrasound enables direct interaction between radiologist and patients, which helps in interpreting the complaint as well as putting someone at ease," she added.
Appelman also told AuntMinnie.com that the team is working on an "extensive" cost-effectiveness analysis and intend to study initial targeted ultrasound in women with focal breast complaints who are over 30 years of age and don't have intermediate or high risk of breast cancer.
"We would like to evaluate the effect of omitting DBT in specific cases when the radiologist decides not really need the DBT after asses the complaint by ultrasound, based on several factors," she added.
In an accompanying editorial, Dr. Mary Newell from Emory University in Atlanta wrote that close oversight and "meticulous technique" are needed if ultrasound is to be the sole imaging method for women with focal breast problems. She cited the Appelman team's limitations section, which states that bias may have been introduced as the researchers performed biopsies before acquiring DBT images. Additionally, ultrasound scans were performed by breast imaging physicians rather than technologists.
"As always, additional research, including more data around the incidental cancer detection rate in women younger than 40 years, as well as a prospective trial to assess for difference in interval cancer rates in symptomatic patients in whom diagnostic DBT is excluded from the protocol, will help us continue to triangulate toward the Polaris of true best practices," Newell wrote.