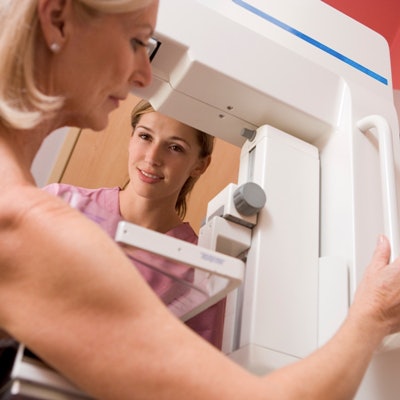 A decision aid in the form of an informative booklet can help women aged 75 years and older to determine whether it's a good idea to continue with breast cancer screening, suggests a pilot study published January 31 by PEC Innovation.
A group led by Dejana Braithwaite, PhD, from the University of Florida in Gainesville found that their aid, a booklet that presents clinician perspectives on screening mammography, helped better inform older women about breast cancer risk, as well as the potential benefits and harms of continued screening.
"We created this booklet because few conversation aids are available to support older women and their primary care physicians make decisions on whether to continue screening," Braithwaite told AuntMinnie.com.
Debate continues regarding how often older women should continue to be screened for breast cancer, including how often they should undergo mammography. The U.S. Preventive Services Task Force (USPSTF) recommends biennial screening mammography through age 74, a B-level recommendation. However, some previous studies suggest that screening through age 80 may be cost-effective.
Braithwaite and colleagues sought to test a patient-centered decision aid booklet to communicate with older women about the potential benefits and risks of breast cancer screening after age 74. They developed it by analyzing factors that clinicians believe are the most influential in their recommendations, as well as using life expectancy based on the University of California, San Francisco's ePrognosis website, which assesses a person's overall health and sociodemographic characteristics.
The researchers gathered data from 21 clinicians, 12 of whom were women and 17 of which practiced family medicine. Participating clinicians cited the following factors as influencing their recommendations: Patient age, comorbidity, functional status, cancer family history, USPSTF guidelines, and new research.
Fourteen women with an average age of 79 completed baseline surveys and received personalized booklets. Out of these, 11 completed the postintervention survey. The researchers found that all women who completed the survey were satisfied with the booklet length, nine found the booklet easy to understand, and eight found it helpful in decision making.
The authors also found that perceived lifetime breast cancer risk among the women decreased significantly from before to after receiving the booklet (p = 0.02).
"Further, women in our study held fairly strong intentions to talk to their primary clinician about stopping mammography," they wrote. "This suggests that shared decision-making encounters could add value to risk-based screening efforts in this population."
The group plans to conduct future studies to test the booklet's efficacy on screening mammography uptake and decision-making in a more diverse cohort of women aged 75 and older.
"The U.S. population is aging rapidly and there is wide variation in life expectancy. That makes it important to individualize cancer screening for older women," Braithwaite said. "Unnecessary screening can be harmful if it causes women to undergo treatment for a cancer that would not have caused symptoms in their lifetime."