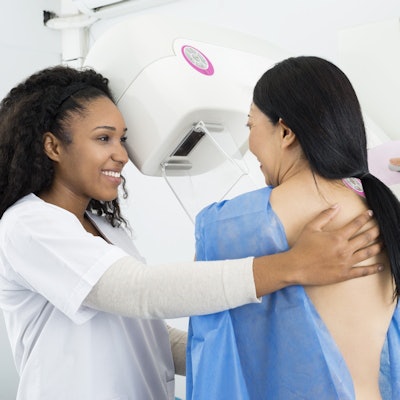 Mammography departments are anticipating that their current budgets will grow by an estimated 9.7% per year from 2023 through 2025, according to IMV Medical Information Division's 2022 Mammography and Breast Imaging Market Outlook Report.
For the first time in over a decade, IMV has relaunched coverage of mammography and breast imaging in its popular market outlook series. According to IMV's 2022 survey of mammography departments, the top five priorities of mammography departments are as follows:
Improve patient satisfaction with their mammography experience.
Obtain/maintain mammography department accreditation.
Improve staff satisfaction and morale.
Better cancer detection for dense breast screening.
Satisfy the needs of referring physicians.
As indicated by respondents, the impact of the COVID-19 pandemic on mammography departments peaked in 2020 and is now at the lowest level since that time. The peak impact occurred in 2020 with 87% of departments experiencing a medium or high impact from the pandemic with an average rating of 8.6/10, with 10 being the highest impact. At the time of the survey in the fall of 2022, 21% of sites continued to experience a medium or high impact with an average rating of 4.1/10.
In the 2022 survey, an estimated 91% of 400+ bed hospitals, 64% of nonhospitals, 53% of 200-399 bed hospitals, and 14% of < 200-bed hospitals performed over 6,000 annual mammography procedures per site. In 2022 overall, 25% of mammography procedures were performed for diagnostic purposes and 75% for screening purchases. Mammography-related biopsies are collected at 75% of facilities.
According to the 2022 survey, Hologic has the largest mammography installed base share with 69% followed by GE HealthCare with 20%, Siemens Healthineers with 8%, Fujifilm Healthcare Americas with 1%, and Philips with < 1%.
After a 17% decline in 2022, mammography department budgets are anticipated to grow an estimated 9.7% each year from 2023 through 2025, for sites with a nonzero budget. Regarding mammography system purchase plans, 36% of sites are "Yes, Planning" or "Maybe Planning" to purchase systems over the next three years.
Despite the popularity of the topic, 63% of mammography sites are not currently using artificial intelligence (AI). For sites that are using AI, the most common uses of AI technology in mammography practices are for clinical support to radiologists in diagnostic interpretations, first-pass screening for lesions, to improve image quality output, and workflow optimization.
In 2022, on average mammography sites were open 8.9 hours per weekday and 1.9 hours per weekend. For more details about the current mammography landscape including information about MRI and ultrasound in breast imaging, check out the full report at the link below.
Want to share your knowledge of medical imaging? Sign up for the IMV Survey panel today.
Davin Korstjens is a Senior Market Research Program Manager at IMV Medical Information Division, part of Science and Medicine Group.
IMV's 2022 Mammography and Breast Imaging Market Outlook Report explores market trends in U.S. hospitals and imaging centers, including procedure volume, manufacture-installed base features and share, the use of OEM vs. third-party service providers, purchase plans, brand loyalty, biopsy modalities and procedures, additional breast care modalities, trending topics in breast imaging and site operations characteristics.
The Mammography and Breast Imaging Market Outlook Report was published in December 2022 and is based on responses from 223 radiology/departmental administrators and clinicians who participated in IMV's nationwide survey in September-November 2022. Vendors covered in this report include Fujifilm, GE, Hologic, Philips, and Siemens.
For information about purchasing IMV Market Outlook Reports, visit the corporate website at imvinfo.com/ or call 703-778-3080 ext. 1033 to speak with a representative. In addition to the report, all purchases will include a complimentary recording of an executive summary presentation of findings conducted by IMV's Senior Program Manager.
Disclosure: IMV Medical Information Division is a sister company of AuntMinnie.com.