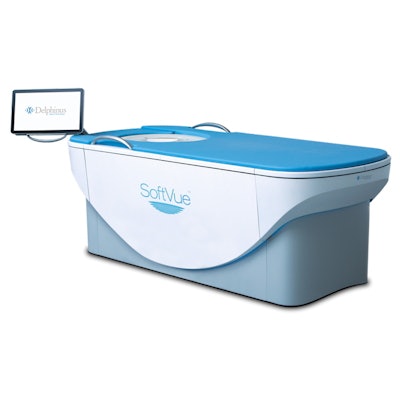 Tomographic ultrasound technology developer Delphinus Medical Technologies has raised $30 million from investors to commercialize its SoftVue 3D whole-breast ultrasound tomography system.
The series D funds were raised from new and existing investors, including Arboretum Ventures, Beringea, North Coast Technology Investors, Venture Investors, Hopen Life Science Ventures, and Waycross Ventures.
Delphinus received U.S. Food and Drug Administration premarket approval of SoftVue in 2021, and this month, the company announced the first commercial sale of the system, which was bought by the Barbara Ann Karmanos Cancer Institute in Detroit.
SoftVue is indicated to act as an adjunct to conventional mammography screening in asymptomatic women with dense breast tissue, which can obscure traditional mammography exams. Delphinus said that SoftVue identifies up to 20% more cancers with higher accuracy and potentially fewer breast biopsies than full-field digital mammography alone.
The funds will be used to further commercialize SoftVue, such as by expanding the company's sales and marketing organization, according to Mark Forchette, president and CEO of Delphinus.