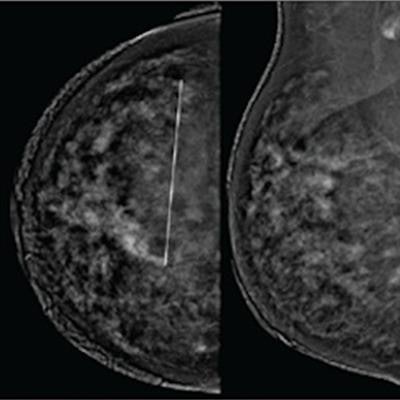 Contrast-enhanced mammography (CEM) can be a useful alternative to supplemental MRI for assessing breast cancer treatment response, according to an Italian study published June 22 in the American Journal of Roentgenology.
Researchers led by Daniela Bernardi, PhD, from Humanitas University in Milan found that CEM and MRI were comparable in assessing lesion size and Response Evaluation Criteria in Solid Tumors (RECIST) categories after neoadjuvant therapy for breast cancer. They also found no significant difference in specificity for pathologic complete response, though MRI had higher sensitivity.
"While MRI remains the preferred test when available, the findings support CEM as a useful alternative when MRI is unavailable," Bernardi et al wrote. "If performing CEM after neoadjuvant therapy, then inclusion of a delayed CEM acquisition may help detect residual ductal carcinoma in situ [DCIS]."
Neoadjuvant therapy helps with breast cancer treatment management by reducing the volume of inoperable breast lesions for easier surgery. The therapy has been extended in recent years to patients with operable disease.
Contrast-enhanced MRI has shown promise in monitoring early response to therapy as well as complete pathologic response. However, researchers wrote that this method is limited by contraindications, patient preferences, high cost, incomplete access, and potential treatment delay.
While the study authors wrote that CEM isn't suitable for diagnostic purposes with its high-energy images, previous research suggests that CEM has higher diagnostic performance in breast cancer detection than digital mammography and breast tomosynthesis. Recent studies also demonstrated comparable performances between CEM and MRI in breast cancer detection and staging.
Bernardi and colleagues wanted to compare the two modalities in evaluating neoadjuvant therapy response in patients with breast cancer, as well as give attention to how a delayed CEM acquisition could work.
The researchers looked at prospective data from 51 women with an average age of 46 years. The women were diagnosed with biopsy-proven breast cancer between 2015 and 2018 and were candidates for neoadjuvant therapy. The women also underwent both CEM and MRI before, during, and after therapy, and CEM performed post-therapy included a six-minute delayed acquisition.
The team found that CEM showed lower average lesion size than MRI in pre-therapy by 0.2 mm, by 0.7 mm during therapy, and by 0.3 mm post-therapy. All post-therapy imaging tests showed systematically larger lesion size versus pathology, including by 0.8 mm for CEM, 1.2 mm for MRI, and 1.9 mm for delayed CEM.
Of 12 women with residual DCIS, an enhancing lesion was detected in seven on CEM post-therapy. Enhancing lesions were found in eight women on MRI and nine women on delayed CEM, both post-therapy.
The study authors also found that the agreement between CEM and MRI for RECIST response categories, represented by kappa coefficients, was 0.791 mid-therapy and 0.871 post-therapy.
MRI however was superior to CEM for post-therapy imaging when it came to detecting pathologic complete response, the team wrote. MRI's sensitivity and specificity here were 100% and 86% while CEM showed 81% sensitivity and 86% specificity. Delayed CEM meanwhile had 81% sensitivity and 89% specificity.
Bernardi et al added that MRI's sensitivity was significantly higher than that of CEM (p = .001) and delayed CEM (p = .002). However, sensitivity was not significantly different between CEM and delayed CEM, and specificity and accuracy were not significantly different between any pairs of tests.