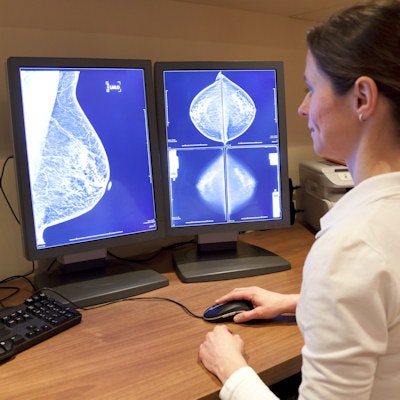 Knowledge gaps about breast density, breast cancer risk assessment, and screening exist among radiologic technologists and radiologists, according to new research conducted by advocacy group DenseBreast-Info.org. The group said continued education efforts may improve appropriate breast cancer screening recommendations.
Physicians and nonphysicians alike were asked to take the advocacy group's continuing medical education/continuing education (CME/CE) course, "Breast Density: Why It Matters." The study included a collection of precourse demographic information, a monograph based on DenseBreast-Info.org content, and a posttest to assess knowledge.
The research was led by Robin Seitzman, PhD, the director of education and epidemiology research at DenseBreast-Info.org with support from Dr. Wendie Berg, PhD, radiology professor at University of Pittsburgh School of Medicine, Magee-Womens Hospital, Department of Radiology, and chief scientific advisor at DenseBreast-Info.org.
The researchers found nearly half of surveyed physicians (226) and technologists (1,363) erroneously thought breast cancer lifetime risk increases with increasing age. About one-third overestimated the ability of digital breast tomosynthesis to detect cancer as nearly equal to MRI.
Test takers also mistakenly thought the Gail risk model should be used to determine if a woman is at high risk of breast cancer for the purposes of recommending MRI or genetic testing (Journal of Breast Imaging, July 24, 2020).
"Because radiologists routinely interface with patients and referring physicians to make appropriate screening recommendations, we need targeted, medically-sourced educational resources to facilitate well-informed shared decision-making," Berg said in a release from DenseBreast-Info.org.