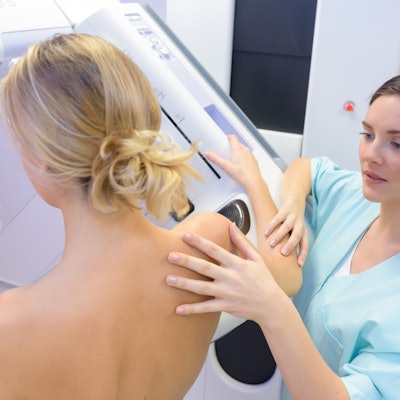 U.S. mammography providers must now include language about breast density in mammography reports delivered to patients and physicians as part of legislation passed last week, according to breast density education group DenseBreast-info.org.
Enacted as part of the funding bill signed into law on February 15, the national breast density notification legislation will require mammography facilities to include up-to-date information about breast density in mammography reports, according to DenseBreast-info.org. The group said that the law directs the U.S. Food and Drug Administration (FDA) to develop language for these reports, which must include, at a minimum, the following:
The effect of breast density in masking the presence of breast cancer on a mammogram
The qualitative assessment of breast density by the provider who interprets the mammogram
A reminder to patients that individuals with dense breast tissue should talk with their providers if they have any questions or concerns about their summary
Breast density notification laws are currently enacted in 36 states and encompass approximately 89% of American women, but they vary in depth and breadth of notification, according to DenseBreast-info.org Executive Director JoAnn Pushkin. In addition, not all of these state laws require that women actually be provided information about their own breast density.
"Implementation of this national law will help to address this disparity, as all imaging facilities that perform mammography screening will be required to provide at least the level of information required by the FDA's new reporting requirement," she said in a statement.