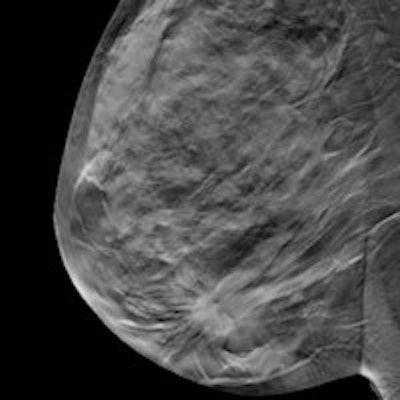 Combining 3D digital breast tomosynthesis (DBT) with 2D mammography images -- both actual and synthetic -- finds more cases of breast cancer than mammography alone, especially in younger women and those with dense breasts. But it also increases recall rates, according to a study published online in Lancet Oncology.
Italian and Australian researchers found that false-positive recalls increased from a rate of 3.4% for mammography alone to 4% for 3D plus 2D mammography and 4.5% for 3D plus synthesized 2D mammography scans. The results are part of the Screening with Tomosynthesis or Standard Mammography-2 (STORM-2) study, conducted between May 2013 and May 2015 in Trento, Italy.
The study findings suggest that clinicians need to consider the pros and cons of 3D mammography, wrote lead author Dr. Daniela Bernardi of the Ospedale di Trento and colleagues.
"The evidence from STORM-2 should be considered in the context of the trade-off between benefits and harms inherent in population breast cancer screening, including that significantly increased breast cancer detection from integrating 3D mammographyinto screening has the potential to augment screening benefit and also possibly contribute to overdiagnosis," the group wrote.
Smaller, invasive cancers
The study included 9,672 asymptomatic women screened during the time frame. The exams were interpreted in two parallel double readings that were performed consecutively, starting with 2D exams followed by combination exams (Lancet, June 23, 2016).
In these women, 90 cancers were identified, 74 of which were invasive. The cancer detection rate for the combination of 3D and 2D mammography was 8.5 cancers per 1,000 screens, while the rate for the combination of 3D and synthetic 2D was 8.8 cancers per 1,000 screens -- both significantly higher than 2D mammography alone, with a rate of 6.3 per 1,000 screens.
The combination of 3D and 2D mammography also found invasive cancers that were smaller, Bernardi's group wrote: Mean tumor size for the 46 invasive cancers detected with both 2D mammography alone and a combination of 2D and 3D mammography was 12.7 mm, while the mean tumor size for the 28 invasive cancers detected only by a combination of 2D and 3D mammography was 11.6 mm.
That synthetic 2D mammography images proved comparable to those acquired in addition to the 3D images is good news for women in terms of minimizing their radiation exposure, as creating synthetic 2D exams from the 3D data means that a separate 2D exam doesn't have to be performed, according to corresponding author Dr. Nehmat Houssami, PhD, of the University of Sydney.
"Future evaluation of 3D in screening practice should consider using 3D mammography only with reconstructed 2D images to avoid double acquisitions," she told AuntMinnie.com via email.
Still, the study results need to be taken with a grain of salt, Houssami emphasized.
"Clearly, screening with 3D plus 2D finds more cancer cases than 2D alone, but we still do not know to what extent that will improve the longer-term outcomes for women," she noted. "Some of the additional cancers found only on 3D may confer screening benefit by reducing risk of breast cancer death, but some may be overdiagnosed cases that bring no additional benefit and possibly harm."
Sequential structure
To best compare standard 2D mammography with the combinations of 2D plus 3D and synthetic 2D plus 3D, the study included sequential reads and duplicate double reads. But this technique also increased both breast cancer detection and false-positive recalls across all exam readings, according to the researchers.
"The sequential screen readings might have affected the estimated false-positive recall proportions," they wrote.
So how might this study limitation be addressed? Directly integrating screening 2D/3D mammography (with synthetic 2D images or not) and using arbitration techniques for discordant readings could reduce the false-positive rate, Bernardi's team wrote. And more practice reading synthetic 2D images wouldn't hurt, either.
"We also expect that increasing experience with 2D synthetic/3D mammography could further reduce false-positive recall," the researchers concluded.