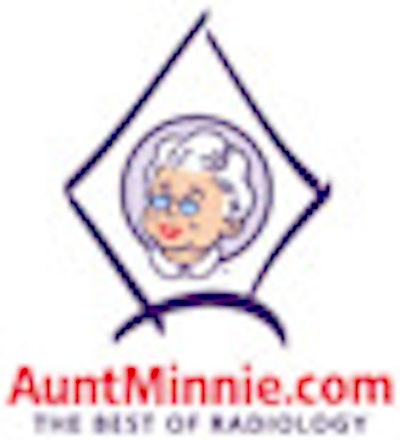 Every year since 2000, AuntMinnie.com has published the Minnies, our annual rankings of the best of the best in radiology. This year's winners offer a view of the expansive breadth of radiology, in addition to highlighting the ongoing importance of perhaps the specialty's most controversial technology: breast imaging.
Breast imaging-related candidates won in four Minnies categories: Most Influential Radiology Researcher, Scientific Paper of the Year, Hottest Clinical Procedure, and Best New Radiology Device. Most of the selections run along a general theme: developing better ways to image the breast to improve upon the current gold standard of mammography.
Minnies winners are selected each year from nominations submitted in August by AuntMinnie.com members. Winners are chosen through two rounds of voting by our expert panelists; this year's campaign featured 164 candidates in 14 categories. This year's winners are listed below.
Most Influential Radiology Researcher
Winner: Dr. Wendie Berg, PhD, University of Pittsburgh
The selection of Dr. Wendie Berg as winner of the Most Influential Radiology Researcher marks the second time in two years that she has been chosen for a Minnies award, with the first in 2010.
The two wins come as no surprise. Berg has carved out a prominent role in breast imaging research, particularly in the use of imaging modalities such as MRI and ultrasound as an adjunct to screening mammography. She was the principal investigator on the American College of Radiology Imaging Network (ACRIN) 6666 trial that examined the use of both modalities in high-risk women.
That study was the basis for her most prominent publication in 2012, which appeared on April 4 in the Journal of the American Medical Association. The study found that adding MRI or ultrasound to annual mammography screening of women with an increased risk of breast cancer and dense breast tissue resulted in the detection of more breast cancers. The research was named the Scientific Paper of the Year in this year's Minnies competition.
Berg is a professor of radiology at Magee-Womens Hospital of UPMC, University of Pittsburgh School of Medicine, a position she accepted after completing her participation in the ACRIN 6666 trial. She continues to work with the ACR on BI-RADS ultrasound and mammography lexicons, has served on numerous national committees, and has authored or co-authored more than 75 peer-reviewed publications, including the book Diagnostic Imaging: Breast (Amirsys).
Runner-up: Dr. Peter Bach, Memorial Sloan-Kettering Cancer Center
Most Effective Radiology Educator
Winner: Dr. Anne Osborn, University of Utah
Dr. Anne Osborn is well-known in radiology for her educational and publishing endeavors, so it's no surprise that she was selected as Most Effective Radiology Educator by the Minnies expert panel.
Osborn holds the William H. and Patricia W. Child Presidential Endowed Chair in Radiology at the University of Utah, and she is considered to be one of the world's most prominent neuroradiologists. She was the first woman elected president of the American Society of Neuroradiology.
She is the author of a number of texts considered to be the definitive references in the field, including Diagnostic Neuroradiology, Diagnostic Cerebral Angiography, and Diagnostic Imaging: Brain. Her newest book, Osborn's Brain, will be published in November. She has published more than 25 books and more than 125 scientific articles.
In 2001, she founded the database publishing and radiology informatics company Amirsys with Dr. Ric Harnsberger. She served as its executive vice president and editor in chief until 2010, when she became CEO of Amirsys Publishing. Her PocketRadiologist: Brain was one of the first radiology texts created specifically for handheld computers and PDAs.
Osborn travels frequently and has given more than 150 invited lectures around the world. She has also sent medical students to India and emerging nations in Africa to install free access to Amirsys' STATdx point-of-care decision-support tool. Osborn has received numerous awards from radiology professional societies, and she was the first-ever recipient of RSNA's Outstanding Educator Award in 2000.
Runner-up: Dr. Keith Dreyer, PhD, Massachusetts General Hospital
Most Effective Radiologic Technologist Educator
Winner: Bea Mudge, Johns Hopkins University
Bea Mudge has been CT imaging and technical manager at Johns Hopkins Hospital since 2003, where she helps oversee the division's volume of 80,000 to 90,000 exams per year and 44 full-time employees and two supervisors.
Mudge has worked as a radiologic technologist since 1978, and she began her career at Johns Hopkins as an instructor in 1980. She is also program director of the hospital's CT imaging school, a position she's held since 1990.
Among her accomplishments, Mudge notes the creation of competency tools that include monthly image quality audits and scanner checklists. She also worked on the creation of a CT patient identification form to prevent the scanning of wrong patients.
Mudge has authored papers and is a frequent lecturer on topics in CT, patient safety, and clinical staff engagement. She cites her lifelong focus on CT and the contributions of her staff as keys to her success.
"Our dedication to doing what is best for each and every patient is the driving force behind the high standards set in our technologist education and training programs," she said. "The key to continue this excellence is a high staff engagement committed to patient care and technical training."
Runner-up: David Gilmore, Regis College
Most Effective Radiology Administrator/Manager
Winner: Kathy Knoerl, University of California, San Francisco
Managing a radiology department at any hospital is never easy, but running a prestigious academic institution such as the University of California, San Francisco (UCSF) presents a unique set of challenges. By selecting Kathy Knoerl as Most Effective Radiology Administrator/Manager, our expert panel acknowledged the contributions she has made to UCSF's radiology department since she joined as operations director in 1998.
Knoerl has always had two main priorities: patient care and personnel development. Since she began her tenure at the university, it has expanded under her leadership with the addition of the China Basin Imaging Center, a state-of-the-art facility in San Francisco where the department performs CT, MR, PET/CT, and spine procedures.
Recently, the department expanded to offer MR and other medical imaging procedures at UCSF's Orthopaedic Institute. During the past year, UCSF Medical Center implemented Epic electronic medical records software; Knoerl credits her excellent team in the success of the project.
"They inspire me to make the department the best," she said of her coworkers. "They make my job easier and fun."
Runner-up: Carlos Vasquez, Franciscan St. Elizabeth Health