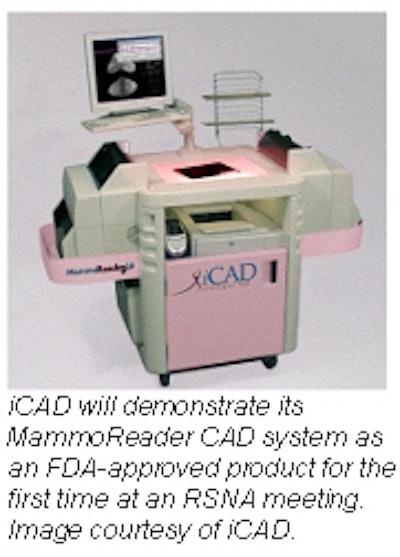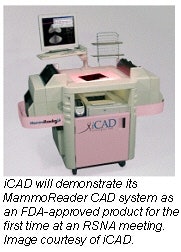 iCAD
Booth #2601
iCAD has expanded its product line of CAD units to include MammoReader II, a high-speed model intended for imaging centers with large caseloads, and MammoWriter, a print-based unit for smaller facilities.
MammoReader II presents results of up to 10 cases in less than 30 minutes, according to iCAD, and interfaces with a facility's RIS, MIS, and PACS networks. In January of this year, iCAD received clearance from the FDA to market MammoReader in the U.S.
Also in its booth, the Boca Raton, FL, company will highlight a new version of its breast CAD imaging software, which increases by 25% the speed at which MammoReader digitizes and analyzes mammograms. iCAD will also display its products in the booth of its marketing partner Instrumentarium Imaging.
Imaging Diagnostic Systems
Booth #4309
Imaging Diagnostic Systems (IDSI) will highlight its Computed Tomography Laser Mammography (CTLM) system at the RSNA show. The unit, which the company defines as an adjunct technology to mammography, uses laser light to create 3-D and cross-sectional images with no breast compression.
CTLM detects neovascularization, which has the potential to allow users to differentiate between benign and malignant lesions and therefore reduce the need for surgical biopsy, according to the Plantation, FL-based firm. CTLM is in the final phase of the FDA's premarket approval (PMA) process.
IMS
Booth #2705
Italian imaging firm IMS will showcase Giotto Image MD, an amorphous selenium-based FFDM version of the company's Giotto Image series of mammography systems. The company will also highlight a workstation with 1,300 images taken with Giotto Image MD at a clinical trial conducted at the Breast Care Department of Ospedale Maggiore in Bologna. IMS plans to submit its PMA to the FDA in January of 2003, and hopes to bring Giotto Image MD to the U.S. market by next spring.
Instrumentarium Imaging
Booth #8526
Instrumentarium will highlight its work-in-progress Diamond DX full-field digital mammography system (formerly called Delta DX), which uses flat-panel amorphous selenium detectors. The company expects to install the first Diamond DX in the U.S. in early 2003, and the product has entered the PMA process.
Milwaukee-based Instrumentarium received FDA clearance in October for its Delta 32 and Delta 32 TACT (tuned-aperture computed tomography) diagnostic digital spot and 3-D systems, which can also be used as stand-alone breast imaging units, according to the company.
Also to be displayed in Instrumentarium's booth will be MammoReader, MammoReader II, and MammoWriter, computer-aided detection units developed by partner iCAD of Boca Raton, FL.
Mirada Solutions
Booth #4165
Oxford, U.K.-based Mirada Solutions will showcase its VirtualMammo mammography simulator, based on the company's standard mammogram form (SMF) technology.
Developed in collaboration with researchers at various clinical reference sites in the U.K., VirtualMammo includes a database of mammograms converted to SMF, and allows users to manipulate images on a computer in real time to learn how various factors affect a final mammogram.
Mirada's technology is being used in a collaboration between IBM, the University of Oxford, and the British government to build a large-scale computing grid, called eDiamond, that will support breast cancer screening and diagnosis.
Mirada will also highlight Fusion 7D, a multimodality image fusion software application. The software supports CT, MRI, PET, and SPECT images, and allows both automatic and interactive image fusion.
Philips Medical Systems
Booth #7150
Philips Medical Systems of Andover, MA, will show its Cosima CR reader for mammography at this year's RSNA show. The work-in-progress unit is being sold internationally but has not yet been cleared by the FDA for sale in the U.S.
Planmed
Booth #8320
Finnish mammography firm Planmed will present images taken with its work-in-progress Sophie Digital system, a full-field digital unit with amorphous selenium detectors that can also be used for stereotactic breast biopsy. The company will also showcase its MaxView breast positioning system, which images more breast tissue in a single acquisition, according to Planmed.
R2 Technology
Booth #4314
Computer-aided detection developer R2 Technology is highlighting work-in-progress products, including ImageChecker DM (digital mammography), a unit that the Sunnyvale, CA, company expects will help clients transition from film to digital.
ImageChecker DM will allow R2's existing customers to upgrade their equipment to support digital input from R2's FFDM partners, including Fischer Imaging, GE Medical Systems, Lorad, and Siemens Medical Solutions.
Also in its booth, R2 will introduce work-in-progress ImageChecker-CT for the detection of lung nodules in multislice CT exams, as well as its PeerView software, available on ImageChecker and R2's CheckMate Ultra display unit, which gives users additional detail on an image by defining and coloring microcalcifications and magnifying and outlining masses or distortions.
Scanis
Booth #2745
Scanis' screen-film mammography CAD system Mammex TR will be on display in its booth. The unit includes a 17-inch flat-panel display screen, simplified film scanning and data input and storage, multiple language capability, and uses a rule-based algorithm rather than neural networks. Foster City, CA-based Scanis has been selling Mammex TR internationally under the CE Mark and Canadian Medical Device License, and hopes the FDA will clear Mammex for marketing in the U.S. in the next six months.
Sectra Imtec
Booth #8550
Swedish firm Sectra Imtec will feature its work-in-progress Sectra MicroDose Mammography T (MDMT) system, a full-field digital mammography unit based on new detector technology. Made of crystalline silicon, the detectors count each x-ray photon individually, which eliminates electronic noise and reduces radiation dose to patients by 80%, as compared to film-screen units, according to Sectra.
Sectra MDMT has CAD capability, as well as a dedicated mammography review workstation that can display images from different modalities, including mammography, ultrasound, MR, CT, and CR. Sectra will begin clinical trials of the system next year.
Siemens Medical Solutions
Booth #1029
Siemens will showcase its work-in-progress Mammomat Nova FFDM system, which uses amorphous selenium detector technology. The Iselin, NJ-firm will also highlight work-in-progress Digiscan M Computed Radiology reader, which upgrades Siemens' Mammomat 3000/Nova to digital and uses double-side scanning of the phosphor imaging plate.
Both Mammomat Nova FFDM and Mammomat 3000/Nova have a pivoting bucky that allows the use of digital stereo and spot imaging with Opdima, Siemens' dedicated digital spot system for stereotactic needle biopsies and localization procedures.
Siemens will also demonstrate its mammography workstation, MammoReport, which includes a roaming/panning function that gives users access to full spatial resolution and the ability to switch between eight-view mammographic studies in 0.2 seconds. Siemens will emphasize MammoReport's CAD capability; the company designed the unit to work with partner R2 Technology's CAD applications.
Go to page:
Advanced Imaging Technologies through Hologic
By Kate Madden Yee
AuntMinnie.com contributing writer
November 18, 2002
Copyright © 2002 AuntMinnie.com