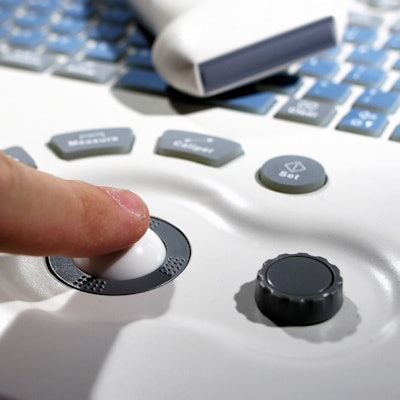 Esaote is highlighting its cardiac imaging technology portfolio -- including a new portable ultrasound system -- at the European Association of Cardiovascular Imaging (EACI) in Barcelona.
The ultrasound system is called MyLab Omega eXP. It features artificial intelligence-supported advanced cardiology tools and automation; its advanced image processing tools, portability, and connectivity cuts examination times while allowing for more precise quantification, the company said. MyLab Omega eXP also uses XCrystal transducers, which Esaote said helps with acquiring images with high temporal and spatial resolution.
The company also demonstrated its Suitestensa CVIS, its enterprise-wide system developed by Ebit (an Esaote subsidiary) that encompasses all workflows, exams, images and postprocessing, and highlighted Caas Qardia, an echocardiography software platform developed by Esaote subsidiary Pie Medical Imaging. Caas Qardia specializes in myocardial strain analysis, stress-echo, diastolic function assessment, and proximal isovelocity surface area (PISA) valve analysis.