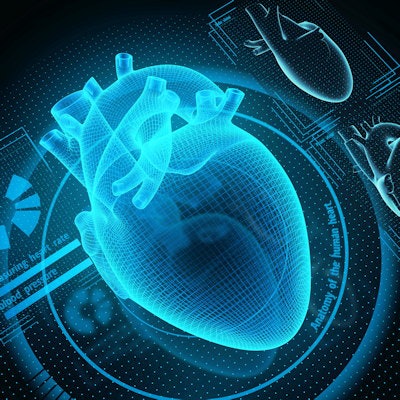 Clinicians who follow artificial intelligence (AI) recommendations are twice as likely to diagnose low left ventricular ejection fraction (LVEF) in patients, a study published November 1 in the Mayo Clinic Proceedings found.
A team led by Dr. David Rushlow from the Mayo Clinic in Rochester, MN, compared the performance of a group of clinicians who had access to an AI algorithm's analysis of electrocardiograms (ECGs) and a group who didn't. The researchers found that those who were alerted by the algorithm about cases with a high risk of low LVEF were more likely to order echocardiograms and were twice as likely to identify patients with low LVEF.
They also found that clinicians with less-complex patients are more likely to be high adopters of AI tools and that those most likely to follow through with the AI tool's recommendations were less experienced in dealing with complex patients.
"[Our findings underscore] the importance of clinician education and engagement, and AI systems that integrate seamlessly into the workflows of busy caregivers," Rushlow and colleagues wrote.
Adoption of AI technology in healthcare remains low, with critics pointing out that AI studies mostly deal with small, retrospective data sets. Also, few studies have explored the characteristics of high adopters versus clinicians who are more hesitant, as well as the clinical outcomes tied to these two approaches.
Rushlow et al wanted to do this for both groups in the case of diagnosing low LVEF. They defined adoption as the clinician ordering an echocardiogram -- the gold standard imaging test for diagnosing low LVEF -- within three months after receiving the AI-enabled electrocardiogram alert.
The study authors looked at data from a total of 165 clinicians and 11,573 patients. They found that among patients with positive AI-electrocardiograms, high adopters (n = 41) were twice as likely to diagnose patients with low LVEF (33.9%) versus low adopters (n = 124) with an odds ratio of 1.62 (16.9%).
When analyzing outcomes from patients with negative AI-enabled electrocardiograms, the researchers found no difference in the echocardiogram order rate between the high-adoption and low-adoption groups. They wrote that this suggests high adopters are not just indiscriminately ordering more echocardiogram testing.
"In fact, despite doubling the diagnostic yield, the high-adopter group only ordered 35% more echocardiograms in those patients flagged by the AI-electrocardiogram," they added.
They also found that high adopters were more often advanced practice providers, such as nurse practitioners and physician assistants, and tended to have less-complex patients.
The authors highlighted that this study shows the power of collaboration between a specialty practice and primary care. They called for more collaboration between specialty practices and primary care to maximize AI's benefits in healthcare.