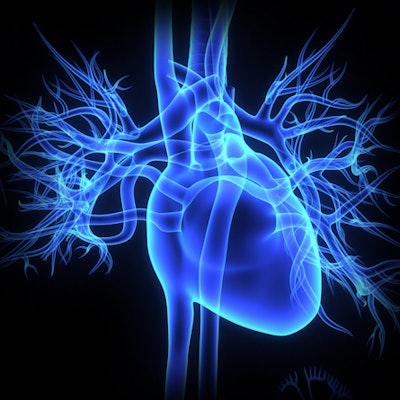 Echocardiographers face an increased risk of radiation exposure when imaging during heart disease interventions, researchers have warned in a study published July 7 in JAMA Network Open.
A U.S. group at a hospital system in Michigan measured head-level radiation doses experienced by echocardiographers during certain procedures that require them to stand near the radiation source and patient. The team found that echocardiographers providing imaging guidance received more than 11 times the radiation dose of the interventional cardiologists performing the procedures.
"These comparatively increased radiation doses reveal a previously underrecognized occupational radiation exposure risk, which has important ramifications for the rapidly expanding field of interventional echocardiography," wrote corresponding author Dr. David McNamara, a cardiologist at Spectrum Health in Grand Rapids.
Echocardiographers are imaging specialists who help physicians diagnose and treat heart problems. For instance, they operate ultrasound equipment that provides 2D or 3D images of the heart and its chambers during procedures like left atrial appendage occlusion (LAAO) treatment for stroke prevention and transcatheter edge-to-edge mitral valve repair (TEER).
Both LAAO and TEER are typically performed under the guidance of fluoroscopy and transesophageal echocardiography, which has resulted in the addition of an interventional echocardiographer as an integral member of the heart team at many hospitals.
Prior studies have shown that interventional cardiologists performing LAAO and TEER are at risk of radiation exposure due to fluoroscopic imaging used to help guide the procedures, yet data on radiation exposure to echocardiographers are lacking, according to the authors.
To elucidate the issue, McNamara and colleagues measured radiation doses from interventional echocardiographers and interventional cardiologists at Spectrum Health's Frederik Meijer Heart and Vascular Institute during 30 sequential LAAO and 30 sequential TEER procedures from July 2016 to January 2018. They measured personal dose equivalents per case using real-time radiation dosimeters.
Both the echocardiographers and interventional cardiologists wore traditional lead apparel, consisting of a lead skirt, apron, and thyroid collar. In addition, lead shields were positioned between the patients and the heart team members in all cases.
According to the findings, interventional echocardiographers were observed to have median head-level radiation doses that were threefold greater during LAAO and 11.7-fold greater during TEER than for interventional physicians.
During LAAO procedures, the median radiation dose was 10.6 µSv among interventional echocardiographers and 3.5 µSv among interventional cardiologists. During TEER, interventional echocardiographers received a median radiation dose of 10.5 µSv, which was higher than the median radiation dose of 0.9 µSv received by interventional cardiologists.
Radiation dose during interventional cardiology procedures
Type of procedure
Interventional cardiologists
Interventional echocardiographers
LAAO
3.5 µSv
10.6 µSv
TEER
0.9 µSv
10.5 µSv
"The findings of this study may have important occupational health implications for the rapidly expanding field of interventional echocardiography and for the structural heart team," the authors wrote.
Ultimately, the study shows echocardiographers may be vulnerable to the level of long-term radiation exposure seen in cardiac catheterization laboratories. This exposure has been associated with multiple adverse health effects among interventional cardiologists, such as premature cataract formation, early carotid atherosclerosis, and possibly left-sided brain malignant tumors, the authors wrote.
The occupational risks for echocardiographers will depend on several factors, including the annual volume of TEE-guided fluoroscopic procedures, the radiation doses received during each procedure, the quality of the fluoroscopy imaging used, and the radiation safety practices of individual institutions, they added.
"Additional studies are needed to determine whether thicker shields or alternative shielding configurations (such as suspended lead suits) would result in lower radiation doses than those observed," McNamara and colleagues concluded.