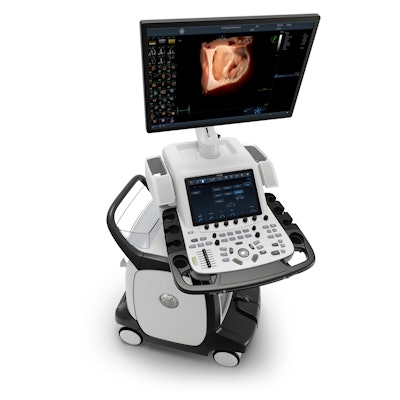 GE Healthcare has received 510(k) clearance from the U.S. Food and Drug Administration (FDA) for the Ultra Edition of its Vivid cardiovascular ultrasound scanner with artificial intelligence (AI) capabilities.
Vivid Ultra Edition helps clinicians acquire more consistent and repeatable cardiovascular ultrasound exams, according to GE. It utilizes various AI features to help produce high accuracy with less interoperator variability and fewer clicks.
AI functionality for 2D echo imaging on the system includes AI Auto Measure for semiautomatic spectrum recognition of measurements on spectral Doppler images and automatic relevant point detection on the left ventricle. It also features View Recognition, in which the software acquires and stores a 2D scan plane.
In addition, Vivid Ultra Edition has HD color displays and FlexiLight photorealistic images. The system also works with GE's 4D transthoracic echocardiogram (TTE) pediatric probe for both 2D and 4D imaging in pediatric patients, from neonates to adolescents.