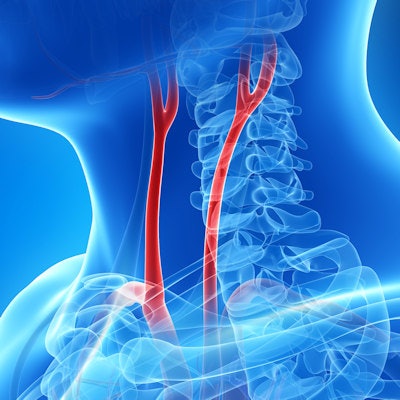 The U.S. Preventive Services Task Force (USPSTF) is poised to once again recommend against screening for asymptomatic carotid artery stenosis. The task force reaffirmed its D rating in a draft recommendation statement published on August 4.
The USPSTF last weighed in on the topic in 2014, concluding with moderate certainty that the harms of screening for carotid artery stenosis in the general population outweighed the benefits. In its new draft recommendation statement, the agency reaffirmed that position, stating there was not enough new evidence to change its previous recommendation against screening with either carotid duplex ultrasound, CT angiography, or MR angiography.
"The USPSTF found no new substantial evidence that could change its recommendation and therefore reaffirms its recommendation," the task force wrote.
In theory, screening the general population for stenosis could lead to early detection of narrowed blood vessels, thus enabling medical professionals to conduct potentially life-saving interventions, such as carotid endarterectomy (CEA) and carotid artery stenting (CAS). But the USPSTF concluded that the evidence it reviewed didn't readily support that hypothesis.
The task force has consistently found limited evidence in favor of asymptomatic carotid artery stenosis screening, especially when compared with other medical therapies, such as statins and antihypertensive agents. And the evidence has been particularly lacking since the USPSTF's last review in 2014.
USPSTF draft recommendation rationale for asymptomatic carotid artery stenosis
Detection
Ultrasonography has reasonable sensitivity and specificity for detecting clinically relevant carotid artery stenosis, but it also yields many false-positive results in the general population.
Scanning the neck for carotid bruits has poor accuracy for clinically relevant carotid artery stenosis.
Benefits
Direct evidence does not indicate that screening for asymptomatic carotid artery stenosis can improve stroke, mortality, or other adverse health outcomes.
Carotid endarterectomy (CEA) or carotid artery angioplasty and stenting (CAS) provides little or no benefit for improving stroke, myocardial infarction, mortality, or other adverse outcomes compared with current medical therapy.
Harms
While direct evidence does not show that screening for asymptomatic carotid artery stenosis can cause harm, there are known harms with confirmatory testing and interventions.
Direct evidence supports that treating asymptomatic patients with CEA or CAS could cause harms, including stroke or death.
Harms related to screening and treating asymptomatic carotid artery stenosis have small-to-moderate magnitude.
After searching the scientific literature, USPSTF investigators found no recent eligible studies that directly investigated the benefits or harms of asymptomatic carotid artery stenosis screening. The two studies that were conducted on the topic in the past six years were both prematurely terminated and produced mixed results.
When looking at the benefits and harms of CEA or CAS, the authors found an additional two national datasets and three surgical registries that met their inclusion criteria. Rates of 30-day postoperative stroke or death after CEA ranged from 1.4% to 3.5% depending on the registry or database. Similarly, 30-day stroke or death after CAS ranged from 2.6% to 5.1%.
Based on the evidence -- or lack thereof -- the investigators concluded there wasn't enough new information to change the D rating for asymptomatic carotid artery stenosis screening. However, they pointed out that two clinical trials are currently underway, which may shed light on the topic in the future.
"There were few new trials, all with methodologic concerns, examining the important question of the comparative effectiveness and harms of revascularization plus best medical treatment compared with best medical treatment alone," they wrote. "The ongoing CREST-2 and ECST-2 trials will be the largest trials to address this issue."
The draft recommendation is available for public comment through August 31. After the comment period has ended, the task force will publish its final recommendation.