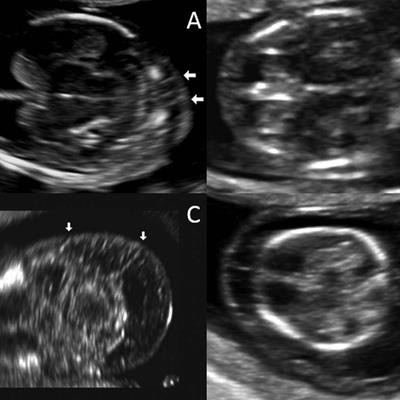 Nuchal septations are a powerful independent risk factor for chromosomal fetal anomalies, and their presence or absence needs to be documented during first-trimester ultrasound screening, according to research published in the January issue of the Journal of Ultrasound in Medicine.
A team from Baylor College of Medicine in Houston conducted a retrospective study of more than 3,000 women who underwent first-trimester genetic screening. The researchers found that the presence of cystic hygroma -- defined by the simultaneous visualization of nuchal septations and increased nuchal translucency on ultrasound -- confers a much higher risk for chromosomal anomalies than increased nuchal translucency alone.
"These findings support the approach of many centers in the U.S. to counsel women whose fetuses have cystic hygroma as having a much higher risk for chromosomal anomalies than just increased nuchal translucency," lead author Dr. Jimmy Espinoza told AuntMinnie.com.
Genetic screening
First-trimester ultrasound measurement of fetal nuchal translucency -- i.e., the distance between the skin and the tissues underneath the back of the fetal neck -- is part of the standard of care in the U.S. for screening for chromosomal anomalies and genetic syndromes. Fetuses with increased nuchal translucency have a higher risk for these abnormalities.
There's controversy, however, over whether cystic hygroma is a feature that can be seen only in fetuses that show increased levels of nuchal translucency. Most physicians and genetic counselors in the U.S. consider cystic hygroma to be a different entity than increased nuchal translucency, one that adds a much higher risk for chromosomal anomalies and genetic syndromes, Espinoza said. In Europe, however, many centers continue to consider the presence of cystic hygroma as just a feature of increased nuchal translucency, and they provide similar counseling for patients with a fetus that has both of those characteristics.
Because the clinical importance of first-trimester nuchal septations and their relationship with nuchal translucency measurements are not well-understood, the Baylor team set out to determine whether the presence of nuchal septations is an independent risk factor for chromosomal anomalies in the first trimester of pregnancy (J Ultrasound Med, January 2017, Vol. 36:1, pp. 155-161).
Higher risk
The researchers retrospectively reviewed the electronic medical records of 3,275 patients who had received first-trimester genetic screening and delivered babies at the Texas Children's Hospital Pavilion for Women between November 2011 and December 2014. They defined nuchal septations as the presence of fine linear echogenic images in the fetal nuchal translucency, which extended from the fetal skin to the tissues underneath. In addition, the presence of nuchal septations and increased nuchal translucency was considered to represent cystic hygroma.
After the 95th percentile for nuchal translucency measurement was calculated for each gestational week, the researchers performed multivariate logistic regression analysis to determine whether the presence of nuchal septations was an independent risk factor during chromosomal analysis. Of the 3,275 patients, 33 (1%) had chromosomal abnormalities, including 17 cases of trisomy 21 (Down syndrome), four cases of trisomy 18, three cases of point mutations (including Noonan syndrome), two cases of trisomy 13, two cases with translocations, two cases with deletions, two cases with other anomalies, and one case of Turner syndrome.
The prevalence of chromosomal abnormalities was significantly higher than in fetuses with normal nuchal translucency (p < 0.001), as well as in those with nuchal translucency above the 95th percentile but without septations (p < 0.001), the researchers found. What's more, after controlling for nuchal translucency measurements and other confounding variables, evidence of septations offered an odds ratio of 40 (95% confidence interval: 9.1-174) for chromosomal abnormalities. That was nearly twice the odds ratio of 20.9 (95% confidence interval: 7.2-60.6) for the presence of nuchal translucency alone of at least the 95th percentile.
The results demonstrate that the visualization of nuchal septations on first-trimester ultrasound is an important and independent risk factor for chromosomal abnormalities, according to the team.
"The presence or absence of cystic hygroma has to be documented in the first-trimester genetic screening in addition to the measurement of nuchal translucency," Espinoza said. "It is true that the vast majority of fetuses with cystic hygroma have increased nuchal translucency; however, in our series, one of the two fetuses who had cystic hygroma but not increased nuchal translucency was diagnosed with Down syndrome."
Espinoza noted that the study now requires confirmation in a large cohort of women who are prospectively examined with first-trimester ultrasound using standardized ultrasound machine settings.