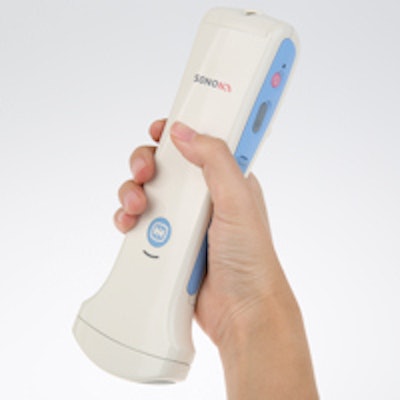 It seems like you can do anything with your smartphone these days. How about using it as a portable ultrasound scanner? South Korean start-up Healcerion wants to make that a reality with Sonon, a portable ultrasound system that runs on Android or iOS mobile devices.
Currently targeted for ob/gyn applications, the Sonon linear probe wirelessly sends image data to an app running on an Android or iOS device such as a smartphone or tablet, said John Freda, chief marketing officer for Healcerion. From there, images can be transmitted over cellular data networks to wherever they're needed.
Healcerion was formally launched in South Korea in 2011 by Dr. Benjamin Ryu, an entrepreneur and emergency physician. Over the course of his practice, Ryu thought it would be a good idea to have a portable ultrasound system he could carry with him all the time, Freda said.
That idea was the genesis of Sonon. Funded initially by Ryu, Healcerion has since received funding from investment companies such as Softbank Ventures, M-Venture Investment, Magellan Investment Technology, and Gachon University's Gil Hospital.
128-channel ultrasound
In contrast with other portable ultrasound scanners, Sonon features a standard, full-scale sensor head with 128 channels, Freda said.
"For portable ultrasound, having that much sensor head is kind of overdoing it," he said. "But it's something that we wanted to go on hopefully in the future to add more specifications, more imaging data, and to [improve image quality]," he said.
While Sonon is currently a convex-based system, the company is also developing a linear probe. The goal is to develop a full line of sensor heads to support a variety of applications, including cardiology and musculoskeletal imaging. Image quality is comparable to the quality of standard ultrasound systems, according to Freda.
Sonon is a completely wireless system, communicating via Wi-Fi Direct to any Android or iOS device. The mobile device then sends the images over cellular data networks to anywhere in the world.
"We actually made this product for Third World countries, where they don't have an ultrasound system available out in the field," Freda said.
Sonon would be particularly useful for emergency medical technicians, enabling them to send an image of an emergent patient in the field directly to the emergency room.
At the moment, Sonon is geared mostly toward pregnancy-based imaging applications, but the work-in-progress linear head can also scan other areas of the abdomen, such as the kidneys. Sonon currently provides only B-mode scanning.
"Given the fact that we don't have Doppler or 3D or color imaging at this time, we are working on that linear head for cardio applications," Freda said.
In the meantime, the company is in a preproduction stage, conducting product tests in hospitals in Germany and Switzerland. Testing is also underway at Gil Hospital. In addition, Healcerion is working on a project with the Jamaican Ministry of Health to use a cellphone data network to transfer image data to the country's main hospitals. Field testing is also ongoing for an initiative in Mongolia.
Healcerion has already received the European CE Mark, and a 510(k) application is pending with the U.S. Food and Drug Administration (FDA). The company anticipates it will get Korean FDA (KFDA) clearance this month and hopes for clearance in Canada in the first quarter of 2015.
Production will begin at the end of November, with the first product shipments earmarked for Europe. Commercial shipments won't begin in the U.S. until at least the third quarter of 2015 while the firm awaits FDA clearance and signs on U.S. distributor partners and arranges for service programs, Freda said.
In addition to seeking distributors, Healcerion is open to OEM partnerships as well, he said.