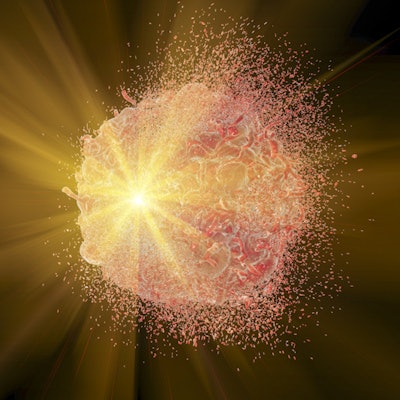 Stereotactic radiation extends long-term survival for some patients with stage IV cancers while maintaining their quality of life, according to results from a clinical trial published in the January issue of the International Journal of Radiation Oncology, Biology, Physics.
The results are the first from a phase II trial that includes 147 patients and is evaluating the feasibility of stereotactic radiation for previously treated cancers that have recurred in other parts of the body. Stereotactic radiation therapy delivers substantially higher doses of radiation than conventional therapy to the tumor site in one to five treatment sessions, according to senior study author Dr. Dwight Heron of the University of Pittsburgh Medical Center (Int J Radiat Oncol Biol Phys, January 2019, Vol. 103:1, pp. 116-122).
"A small number of patients with stage IV disease could have surgery to remove their metastases and live a long time," he said in a statement released by the American Society for Radiation Oncology (ASTRO). "And so our question was, could we use highly focused radiation to destroy those tumors and have the same effect as surgery? The initial answer from this large prospective trial is yes."
Most of the study participants had one (71%) or two (19%) metastases in one to three new sites; all patients had a life expectancy of more than six months. The metastases were located in the lung (52%), lymph nodes (16.5%), bone (15%), or liver (7%). All patients underwent stereotactic radiation to all metastatic sites.
Heron and colleagues found that 84% of patients survived at least one year after treatment and 43% survived at least five years. Half of the patients experienced a complete or partial remission after treatment (52%), and an additional 32% had stable disease that did not progress.
Patients with primary breast, prostate, and colorectal tumors had longer survival times than those with primary lung or head and neck tumors. Severe side effects were limited, with slightly fewer than 10% of patients experiencing short-term toxicity of at least grade 2. There was one grade 3 case each of labored breathing, skin inflammation, and anemia.
"In combination with immunotherapy, stereotactic radiation therapy may set a new bar for achieving better outcomes, lowering side effects, and improving our patients' quality of life," Heron said.