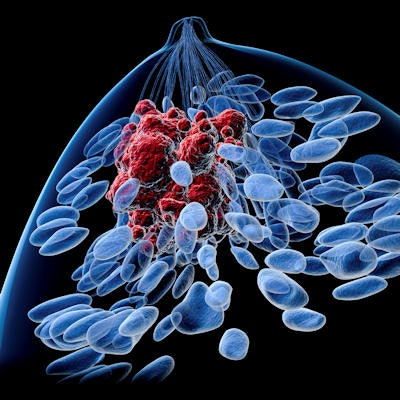 Breast MRI could enable about 10% of breast lesions to be downgraded to a lower BI-RADS level and settle the need for closer follow-up, according to research published January 3 in the European Journal of Radiology Open.
A team led by Dr. Arvin Arian from Tehran University of Medical Sciences in Iran also found "relatively high" agreement between MRI and ultrasound in detecting BI-RADS 3 breast lesions in women who are candidates for assisted reproductive therapy and in women with high-risk lesions.
"Added knowledge of these challenging lesions through timely screening, follow-up, and proper therapeutic interventions is necessary to prevent adverse events like malignancy," Arian and colleagues wrote.
Supplemental ultrasound is used for follow-up imaging of suspicious breast lesions found on mammography. However, such lesions detected on ultrasound can be challenging for clinicians when they are categorized as "probably benign," especially when it comes to dense breasts.
Although both MRI and ultrasound are capable of effectively imaging BI-RADS 3 lesions, each modality has respective differences in imaging features, which can be confusing for radiologists and clinicians to interpret. Arian and colleagues wanted to present MRI features of ultrasound-detected BIRADS-3 lesions and compare findings from both modalities among women with ultrasound-detected BIRADS-3 masses.
They looked at data from 123 ultrasound-detected BI-RADS 3 lesions in 67 patients with a median age of 38 years. The women who were focused on for the study included candidates of assisted reproductive therapy and patients with prior high-risk lesions.
The researchers found that MRI agreed with ultrasound on 87% (n = 107) of cases. MRI downgraded another 12 cases (9.8%) to BI-RADS 2 and upgraded four cases (3.3%) to BI-RADS 4.
Additionally, the median size of the lesions was 9 mm in MRI and 9 mm in ultrasound, which the team wrote was "highly" correlated, yielding a Spearman correlation coefficient of 0.889 (p < 0.001).
The group also found that MRI evaluation revealed two cases of deep lesions that were missed in ultrasound imaging.
The study authors called for more studies before full-protocol MRI is used more widely in this setting. They also suggested that abbreviated MRI could be used in these women to rule out higher BI-RADS lesions and could be an idea for future research.