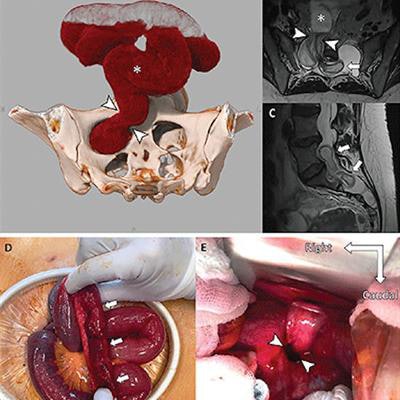 Editors for the journal Radiology have selected the winner and runners-up for its 2022 Images in Radiology collection.
The top images were selected by the Radiology in Training editorial board based on aggregate scores from individual editorial board members' rankings, according to the journal. The images were selected based on three criteria: novel technology or unusual pathology, educational or thought-provoking, and visually compelling.
The 2022 winner was from an article published June 14, 2022, titled, "Intradural Small Bowel Herniation." by neuroradiologists at the Francois Mitterrand University Hospital in Dijon, France. The cinematic 3D-rendered image depicts unusual pathology in a case of a 38-year-old woman with Marfan syndrome who underwent resection for a presumed right ovarian cyst.
The first runner-up is an article published August 3, 2021, titled, "Myocarditis Following COVID-19 Vaccination," by a group at University Hospital Bonn, Venusberg-Campus 1, 53127 Bonn, Germany. This is the third consecutive year in which a COVID-related image was honored among top contenders.
The second runner-up was a tie between two articles. The first, "CT of Ongoing Intracerebral Hemorrhage," is by a group at the People's Hospital of Deyang City in Sichuan, China. The image captured the rapid evolution of a progressively expanding intracerebral hemorrhage in a 73-year-old man.
All three images exemplify the significant contributions made by radiology to the field of medicine and were selected from 43 images published between July 2, 2021, and June 30, 2022, up from 29 in 2021, the journal said.
All images were published in open-access articles, with the full article announcing the winners available on the journal's website.