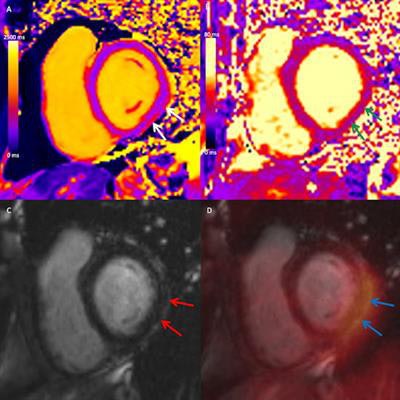 PET/MRI imaging shows that localized myocardial inflammation can manifest in a small number of patients approximately two months after COVID-19 vaccination, a finding that warrants longer-term follow-up, researchers suggest.
"To our knowledge, this is the first prospective study to report comprehensive cardiac investigations and imaging in both symptomatic and asymptomatic patients after COVID-19 vaccination," wrote a team led by Dr. Kate Hanneman of the University of Toronto in Toronto, Canada. The study was published March 9 in Radiology: Cardiothoracic Imaging.
Myocarditis (inflammation of the heart muscle) can affect the heart's rhythm and ability to pump blood and may leave behind lasting damage in the form of scarring. Some instances have been identified on MRI following administration of mRNA-based COVID-19 vaccines.
In addition, some patients have experienced cardiac symptoms after vaccination, including shortness of breath, palpitations, and chest pain, yet do not meet diagnostic criteria for acute myocarditis, according to the authors.
Some patients are at risk of myocarditis following mRNA-based COVID-19, according to Hanneman and colleagues, but there are limited data on potential myocardial tissue changes in patients who are asymptomatic after COVID-19 vaccination. Given this background, the researchers aimed to further elucidate the issue using a PET/MRI approach. Hybrid PET/MRI scanners provide information both on metabolic function with PET and tissue characterization with MRI and have proven to be more accurate than either modality alone when assessing disease.
For the study, the researchers enrolled 54 patients ages 17 or older who had received COVID-19 vaccinations and performed PET/MRI imaging a median of 72 days afterward. Of the study cohort, 17 patients were categorized as symptomatic myocarditis (new cardiac symptoms within 14 days of vaccination and meeting diagnostic criteria for acute myocarditis), symptomatic with no myocarditis (new cardiac symptoms but did not meet criteria for myocarditis), and asymptomatic (no new cardiac symptoms).
At two-month follow-up, PET/MRI showed evidence of myocardial inflammation in two of 17 participants diagnosed with acute myocarditis early after COVID-19 vaccination. The researchers found no myocardial edema or functional impairment in symptomatic or asymptomatic participants who did not meet the criteria for myocarditis early after vaccination.
Although there is no clear consensus on the optimal timing of follow-up imaging in patients with acute myocarditis, based on the additional PET metabolic findings in this study, the authors suggest the diagnostic yield of cardiac MRI more than two months after vaccination is likely low in individuals who do not have objective early signs of myocarditis.
In patients presenting with new-onset symptoms after vaccination in whom myocarditis is suspected, however, cardiac MRI should be performed as soon as possible after symptom onset to maximize the diagnostic yield, they added.
"Further study is needed to investigate noncardiovascular causes of symptoms after vaccination in individuals who do not meet diagnostic criteria for acute myocarditis," the researchers concluded.