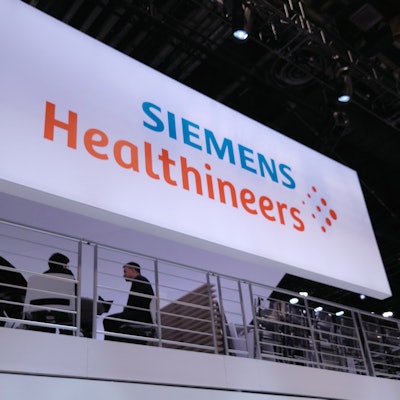 CHICAGO - A trio of new MRI scanners headline new product launches for Siemens Healthineers at RSNA 2022. The company also showcased its Naeotom Alpha photon-counting CT scanner and recent introductions in molecular imaging, digital x-ray, and ultrasound.
In its booth, Siemens is featuring the second-generation Magnetom Terra.X 7-tesla and Cima.X 3-tesla MRI scanners, as well as the Viato.Mobile, a mobile 1.5-tesla scanner. All are shown as works in progress.
With the Terra.X, Siemens has incorporated what it calls Ultra IQ technology -- new hardware and software that has increased homogeneity and enabled a larger field of view. It's designed to exploit the resolution and contrast possible with 7-tesla scanning, according to the firm.
Meanwhile, the Cima.X is the most powerful whole-body 3-tesla scanner Siemens has produced yet, according to the vendor. Its Gemini gradients with 200 mT/m and at 200 T/m/s are more than double the currently strongest MRI scanner available from Siemens.
The scanners utilize Siemens' Open Recon platform, enabling image reconstruction algorithms to be run right on the scanner. The inclusion of artificial intelligence (AI) algorithms enables scanning times to be reduced by up to 50%, Siemens said.
Assistance systems available with the scanners support scan preparation, as well as the scan itself, according to the firm.
Both Terra.X and Cima.X are particularly beneficial in neuroscience, oncology, and musculoskeletal imaging, Siemens said.
The third new work-in-progress scanner, the Viato Mobile, is a 1.5-tesla scanner that can be set up in a mobile trailer for short- and long-term use. It features a patient bore of 70 centimeters and can be operated and serviced remotely via a fixed internet connection or a 4G connection, Siemens said.
CT
In CT, the company's Naeotom Alpha photon-counting CT scanner was once again the main attraction. First introduced at RSNA 2021, the system was awarded AuntMinnie.com's Minnie award in 2022 for Best New Radiology Device.
Digital x-ray
In digital x-ray, the vendor unveiled the Siemens Multix Impact E, a new entry-level, floor-mounted system geared primarily toward developing markets. The firm also discussed Mobilett Impact, a work-in-progress digital mobile system that can perform all radiography exams.
Women's health
In women's health developments, Siemens' Mammovista B.smart software for support of breast imaging interpretation has been expanded to include full support for breast MRI, according to the firm.
Interventional radiology
In interventional radiology, Siemens is featuring its Artis icono floor ceiling-suspended angiography system. The company received U.S. Food and Drug Administration (FDA) clearance for the Artis icono floor in July. Designed for both routine and advanced interventional radiology and cardiovascular procedures, the system features a ceiling-suspended C-arm for advanced positioning flexibility.
Molecular imaging
Siemens' new Biograph Vision Quadra PET/CT scanner was also on display in Chicago. Since the company installed the first one in North America at the Mayo Clinic in Rochester, MN, the Biograph Vision Quadra PET/CT has been installed at three other locations, according to a company representative.
Vision Quadra's large field of view sets it apart from standard PET/CT scanners while also providing higher image quality, the company said. The scanner enables clinician researchers to perform simultaneous whole-body imaging from the top of the head to the thigh, and its field of view is four times larger than the company's Biograph Vision 600 system.
Meanwhile, Siemens also highlighted its Symbia Pro.specta SPECT/CT system with myExamCompanion. Since it was unveiled at the Society for Nuclear Medicine and Molecular Imaging annual meeting in Vancouver, Canada, in June, the system has been kitted with software updates designed to improve workflow. Each system includes intelligent SPECT/CT imaging and a fully integrated, intuitive user interface.
Ultrasound
In ultrasound, Siemens introduced updates to its family of Acuson systems to meet new clinical, operational, and financial needs in various clinical areas.
The Acuson Sequoia 2.0, the company's most advanced ultrasound system, has been expanded to include musculoskeletal imaging and 3D/4D obstetrics. Four new transducers have been added, including a new 3D/4D volume transducer and auto Doppler, which can reduce carotid scan time and eliminate 25% of keystrokes by automatically steering and positioning color and pulsed Doppler, a company representative said.
Also, the company's Acuson Juniper 2.0, a lightweight ultrasound system with battery scanning and a small footprint, has been updated with a new integrated battery support to allow up to 75 minutes of unplugged scanning for rapid bedside assessment. Also, a new 6C1 single crystal transducer addresses the impact of obesity on image quality with improved resolution and penetration and may serve as an advanced tool for comprehensive liver evaluations, a representative said.
Lastly, the Acuson Juniper 2.0 system includes a new 14L4 all-in-one linear transducer for breast, vascular, musculoskeletal, and small parts imaging.
Workflow management
Siemens also dedicated a corner of its booth to Syngo Carbon, a flexible, modular information technology infrastructure system designed for companywide imaging and reporting.
Many clinical departments have their own systems for image management, archiving, and drawing up findings. That means reports can differ greatly, and the data isn't always universally available, the company said.
Syngo Carbon is a modular, multidepartmental product that can both manage and represent all kinds of imaging and report data in a patient-centered form. Data from different departments are drawn from various silos and integrated as part of a unified environment, including diagnostics and assessment. Its use can simplify workflows and make it easier for different areas to work together, Siemens said.
Structured data are automatically generated and made available via standardized interfaces such as Fast Healthcare Interoperability Resources, which can speed up and simplify the diagnostic process, the company added.