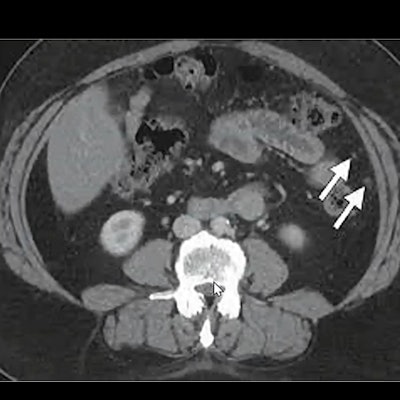 MRI has advantages over CT when it comes to detecting and characterizing ovarian masses, but more data is needed, according to a May 11 presentation at the International Society for Magnetic Resonance in Medicine (ISMRM) meeting.
In her presentation, Dr. Anju Sahdev from Queen Mary University of London talked about the advantages MRI has in ovarian cancer screening and diagnosis, as well as how it could save more women's lives from this disease, which has poor prognosis.
"It [MRI] is by far the best modality we have," Sahdev said.
The ISMRM is holding this week's meeting in conjunction with the European Society for Magnetic Resonance in Medicine and Biology and the International Society for MR Radiographers and Technologists.
Ovarian cancer's poor outcomes
In the U.K., there are about 7,000 new cases of ovarian cancer each year, with rates being highest in women ages 55 to 64. Sahdev said a woman's lifetime risk of developing invasive ovarian cancer is one in 79.
Despite overall healthcare advances, ovarian cancer continues to have a poor outcome, with a five-year survival rate of 46.5%. Surgery and chemotherapy give women the best chance at long-term survival.
Recurrence is also normal, at about 75% of all cases within the first five years, with a median of 18 to 24 months. Even early-stage patients have a relapse rate of 20% to 25%, according to a 2019 report. However, current recommendations say that surveillance should be offered to individual patients and not routinely due to lack of evidence.
"It [ovarian cancer] still remains the most common, fatal gynecological malignancy," Sahdev added in her ISMRM 2022 talk.
Standard practice in most institutions is postcontrast CT chest-abdomen-pelvis (CAP) imaging with negative or positive oral contrast for disease staging and mapping, Sahdev said. However, she added that CT has high false positives and false negatives for malignancy.
MRI has a "clear, established, and validated" role in characterizing ovarian masses found but not diagnosed on ultrasound. It also detects localized pelvic recurrence post-surgery and determines lesion origin in the pelvis.
"MRI is certainly much more definitive in showing a solid mural nodule with post-contrast enhancement more consistent with an ovarian mass," she said. "The value of MRI is to be able to look at that solid component in much more detail."
Sahdev cited previous research touting MRI over CT. The most recent research was a 92-patient study published in 2020 in the European Journal of Radiology, which showed that diffusion-weighted imaging (DWI) MR had overall higher accuracy than CT in evaluating all sites. DWI also performed "significantly better" than CT for involvement of mesentery, periaortic lymph nodes, and bowel serosa.
Another study Sahdev cited was published in 2016 in the British Journal of Radiology. The authors found that diffusion-weighted MRI had higher overall sensitivity than CT, 98% to 83%. They also found that MRI detected more surgically critical sites, such as smooth muscle actin activity, small- and large-bowel serosa, and mesenteric root, among others. However, the researchers did not validate their disease sites with histology or surgical findings, Sahdev said.
MRI can also evaluate and predict disease response to treatment such as chemotherapy for patients who aren't suitable for surgery. Sahdev said MRI works well for detecting tumors for peritoneal deposits, though it isn't reproducible at other sites.
However, CT can also be used for predictive purposes and is "hot on the heels" of MRI, she added. Previous research shows that quantitative CT imaging performs better than RECIST 1.1 in evaluating solid tumors and can categorize patients and their disease responses correctly about 94% of the time.
Sahdev said one area to keep an eye on is radiomics and radiogenomics using both MRI and CT. While standardization and validation are still needed for this development, Sahdev said it will "bring us a few things."
Still, Sahdev said MRI has advantages via increased tissue contrast and increased conspicuity for small lesions through diffusion-weighted MR. It also shows direct disease response with alterations in apparent diffusion coefficient measurements.
"By the time you've married these gains with the difficulties in obtaining and doing the MR, I think you'll find that in most institutions, we use it as an adjunct to CT for difficult cases or where we think the patient will benefit from extensive pelvic resection," Sahdev said. "We need more data."