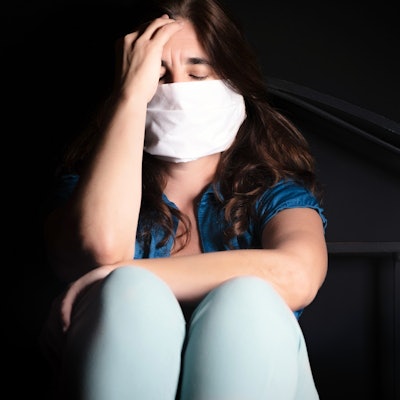 The COVID-19 pandemic has negatively impacted racial and ethnic minority populations, and radiologists can reduce these healthcare disparities, according to a May 18 presentation at the International Society for Magnetic Resonance in Medicine (ISMRM) and Society for MR Radiographers & Technologists (SMRT) virtual annual meeting.
Dr. Anand Narayan from the Massachusetts General Hospital department of radiology said that the COVID-19 pandemic has highlighted persistent historical disparities in healthcare. Radiologists can take an active stance in caring for these patients.
"These are all things that have consequences we should be worried about. As radiologists, we can actually see this," Narayan said.
Many hospitals scaled back outpatient and elective procedures in the early days of the pandemic to focus on COVID-19 treatment. This meant that screenings such as for breast, colon, and cervical cancer saw sharp decreases as appointments were delayed.
Data published in May 2021 by Dr. Ronilda Lacson, PhD, and colleagues in the Journal of the American College of Radiology suggested inequities were exacerbated in radiology soon after reopening for patients after the pandemic became more manageable.
The study showed that certain patient populations had lower odds of undergoing radiology examinations after clinics reopened. These include people with high rates of poverty, patients of Asian race and Hispanic ethnicity, people who were unemployed, and patients with chronic disease.
Other studies have indicated that Black and Hispanic patients were exposed more to COVID-19 due to factors such as living, work, and transportation arrangements. A 2020 report from the U.S. Centers for Disease Control and Prevention showed that Black patients in the U.S. were 1.9 times more likely to die from COVID-19, while Hispanic patients were 2.3 times more likely.
Even before the pandemic, data has shown that people of color experienced delays in diagnosis compared with white patients.
A study published in 2012 in Epidemiology indicated that among women who were symptomatic for breast cancer, the median time to diagnosis ranged from 36 days among white women to 53.6 days for Black women. Among women with abnormal mammograms, the median time ranged from 21 days for white women to 29 days for Black women.
While COVID-19 vaccines continue to roll out, racial disparities in healthcare persist. Narayan cited articles saying that racial and ethnic minority patients are less likely to have their first dose of the vaccine.
"This gap has gotten worse over time between the most and least vulnerable counties in the U.S.," he said. "It's been hypothesized that there's this vaccine hesitancy among Black, LatinX, and other minorities who have concerns about it or don't want it. We've seen some of these reports in the media talking about things like Tuskegee [syphilis study], which was a horrific experiment."
Narayan said while events like Tuskegee can leave lasting scars, it should not be an excuse to ignore the concerns of patients today.
He highlighted several things that imaging facilities can do to address the issues of current patients, such as reducing diagnostic delays for vulnerable patient populations, integrating equity and inclusion within departments, and elevating and integrating the voices of marginalized patients and providers.
Strategies he cited include a "pink card" issued to women who are overdue for a mammogram and accommodated for screening or a same-day biopsy program.
"What you ultimately want is for your organization to have this as part of your entire DNA, where all of your decisions about your clinical processes, research, education, teaching, funding, and patient care, some thoughts about equity and inclusion," Narayan said.