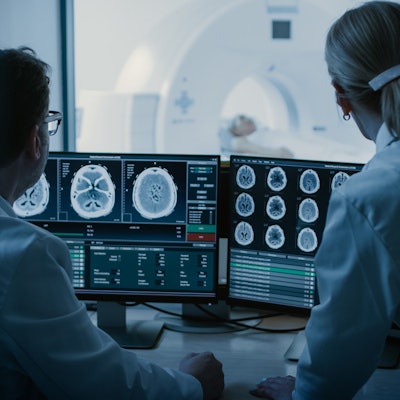 If you feel like you're working harder just to keep up, you're not mistaken. The number of MRI procedures being performed in the U.S. has reached an all-time high, at an estimated 42 million procedures in 2019, up 8% over 39 million exams in 2018, according to a new report by IMV Medical Information Division.
This annual increase appears to have reversed a nationwide slowdown in MR procedure growth. MR procedures had been rising at a 15% average annual rate from 1998 to 2003, but then slowed to a 4% annual rate from 2004 to 2016. Then, in 2017, total MR procedures declined 8% to 36 million, but the number is back in positive territory, growing 8% per year since 2017.
The earlier slowdown may have been influenced by the growing usage of appropriate use criteria in ordering MR procedures, and further exacerbated by a change in reporting policy from the U.S. Centers for Medicare and Medicaid Services. This change mandated that under the Protecting Access to Medicare Act (PAMA) of 2014, physicians are to utilize a clinical decision support system for ordering imaging studies (MR, CT, PET, and nuclear medicine only) to assure appropriate use of imaging resources and to minimize overutilization.
Going forward, radiology and MR administrators are optimistic that their MR procedure volume will continue to grow, with almost two-thirds of the respondents to IMV's survey believing that their procedure volume will increase in 2020. But amidst this optimism about MR procedure growth, the administrators expressed concern about managing operational and staff issues due to their increased workload. Top MR department priorities include the following:
Managing MR department workflow and productivity
Improving staff satisfaction and morale
Strengthening ongoing staff training to improve the implementation of MR safety policies, MR imaging know-how, and productivity
Solutions to improve their efficiency span from managing logistical issues to seeking technology improvements. Logistical issues MR departments are dealing with include educating their MRI technologists and related support personnel about MR safety issues, cross-training their technologists across multiple locations, and screening patients appropriately for MR scanning.
One respondent stated that an effective patient screening process includes: "1) to assure that MR patients, particularly inpatients, can tolerate MR scanning; 2) that MR is the most useful imaging for a given patient's condition; and 3) to reduce the time the patient is in the MR."
Technology solutions desired span the entire workflow from start to finish, including tools to improve the patient experience and comfort, hardware and software to expand the functionality of clinical applications capabilities for both scanning and processing images, capabilities to improve image quality while reducing patient motion artifacts and the need for contrast utilization, and seamless critical results reporting.
While the majority of the respondents to the IMV survey share optimism that their procedures will grow due to the increasing utility of MR imaging, there are mixed signals on their outlook for the rate of MRI procedure and revenue growth. Key inhibitors that affect their outlook include decreasing reimbursement levels, health insurance preauthorization denials, reduced health plan coverage and higher out-of-pocket costs causing declines in patient volume for elective procedures, appropriate use requirements, public concerns with side effects of gadolinium-based contrast agents, and local competition.
Regarding their future plans for acquiring MR systems over the next three years, survey results indicate a relatively stable MR market, with 27% of all MRI sites "Yes, planning" to purchase a fixed MR system over the next three years, plus an additional 26% that are "Maybe planning." While those who "Maybe" plan to purchase MR systems represent a less-certain market potential for MR, the combined total for the sites "Yes" and "Maybe" planning has been relatively consistent at 53% to 57% since IMV's 2015 report.
MR systems with field strengths of 1.5 tesla continue to be the mainstay, comprising two-thirds of the MR installed base since 2007 and over 60% of the planned installations of MR systems. Meanwhile, MR systems with 3-tesla magnets have grown to almost one-fifth of the MR installed base and comprise one quarter of the planned MR systems.
The MR respondents feel that the use of artificial intelligence (AI) and machine learning tools in their environment is still in its early adoption state, with only 17% of the respondents giving high 4 to 5 ratings (on a rating scale of 1 to 5) in response to the statement "we will be early adopters for artificial intelligence applications using MR data for clinical decision support."
However, the respondents are hopeful that AI will help them with their department priorities, with the two top-ranked potential uses for artificial intelligence applications being "capabilities to improve image quality output" and "tools to help workflow from image acquisition to providing images to the radiologists."
Lorna Young is the senior director of market research at IMV Medical Information Division, part of Science and Medicine Group.
IMV's "2019 MR Market Outlook Report" explores market trends in U.S. hospitals and imaging centers, including procedure volume, manufacture-installed base features and share, the use of OEM versus third-party service providers, purchase plans, brand loyalty, contrast utilization/budgets, MR power injectors, and site operations characteristics. The report is based on responses from 405 radiology/MR administrators who participated in IMV's nationwide survey in August-September 2019. Their responses have been projected to the IMV-identified universe of hospitals and imaging centers in the U.S. that use fixed MRI systems or mobile service providers to perform MR imaging, and the report provides market forecast scenarios addressing the MR unit market in the U.S. for 2019-2023. Vendors covered in this report include Bayer/Medrad, Bracco, Canon/Toshiba Medical Systems, GE Healthcare, Guerbet, Hitachi Medical Systems, Philips Healthcare, and Siemens Healthineers.
For information about purchasing IMV's "2019 MR Market Outlook Report," visit the corporate website at www.imvinfo.com or call 703-778-3080, ext. 1033, to speak with a representative.
Disclosure: IMV Medical Information Division is a sister company of AuntMinnie.com.