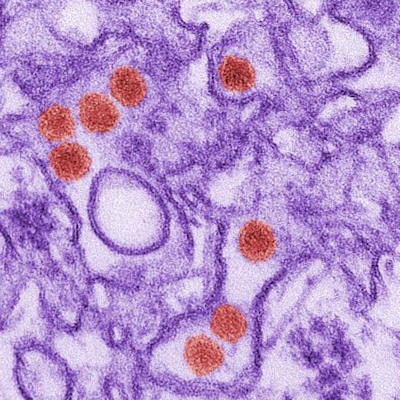 Some infants who were exposed to the Zika virus in utero but who appeared normal at birth later demonstrated delays in development as toddlers, according to a study published online January 6 in JAMA Pediatrics. But imaging tools such as ultrasound and MRI can help indicate which children might be at increased risk.
Researchers found that infants whose postnatal ultrasound images showed nonspecific findings, such as lenticulostriate vasculopathy, were significantly more likely to experience impaired social cognition development as toddlers than the other infants who were exposed to the Zika virus in utero.
"Although many of the infants in this cohort study had normal neurodevelopmental scores through 18 months of age, scores in multiple areas of development for some infants decreased from normative mean scores over time," wrote the authors, led by Dr. Sarah Mulkey, PhD, from Children's National Hospital in Washington, DC.
Exposure to the Zika virus before birth can cause brain abnormalities, as well as eye and vision problems. While some infants exposed in utero to Zika develop symptoms detectable through ultrasound and other imaging modalities, most newborns do not have any clinical manifestations of congenital Zika syndrome (CZS). However, these apparently healthy infants are still at risk for long-term negative health effects, including neurodevelopmental delay.
The researchers performed neurodevelopmental assessments on 70 children from Colombia who were exposed to the Zika virus in utero but had no signs of congenital Zika syndrome before or at birth. They administered the tests when the children were 4 months to 8 months old and/or 9 months to 18 months old.
In one of the clinical tests, the children showed a consistent and moderate neurodevelopmental decline. Their scores for mobility, communication, and social cognition decreased throughout the assessment period compared with the standard scores for children in their age ranges.
"The infants included in the present cohort were well characterized, with laboratory-confirmed in utero exposure to [Zika virus], normal fetal MRI and ultrasonography findings, and no evidence of CZS or microcephaly at birth," the authors wrote. "Thus, these infants were expected to have low risk for subsequent neurodevelopmental deficits, yet these deficits emerged in the first year of life and without a reduction in head circumference."
About 60 of the children in the study had also received cranial ultrasound as infants. One-third of the children showed mild, nonspecific findings, including lenticulostriate vasculopathy, subependymal or germinolytic cyst, choroid plexus cyst, and isolated calcification.
The children with these ultrasound findings were more likely than those with normal findings to experience a decline in social cognition, the researchers found. They noted that this could be a risk factor for worse early neurodevelopmental outcomes.
"To our knowledge, this study is the first to show that these nonspecific imaging findings may indicate subtle brain injury potentially associated with impaired neurological development," the authors wrote.
They cautioned that their study included a relatively small sample size, and no concurrent control group was used. Nevertheless, the findings suggest the importance of pre- and postnatal imaging for infants exposed to the Zika virus, as noted in an editorial letter from experts at the U.S. Centers for Disease Control and Prevention (CDC).
"In the cohort followed by Mulkey et al, nonspecific findings on postnatal imaging ... were associated with lower scores in the social cognition domain," wrote Margaret Honein, PhD, and her CDC colleagues. "Although the clinical significance of these nonspecific findings is not yet clear, the importance of postnatal neuroimaging for all children with Zika virus exposure in utero was made extremely clear."