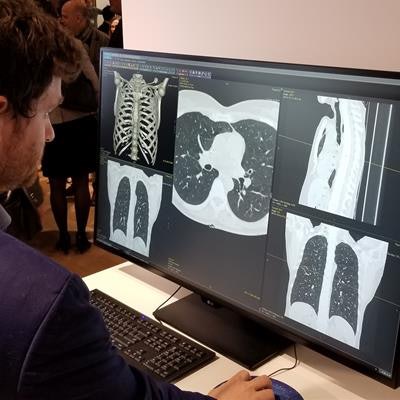 VIENNA - New advances in artificial intelligence (AI) -- including a partnership with the European Society of Radiology (ESR) to highlight AI applications in radiology this week -- are among the highlights in the booth of GE Healthcare at ECR 2019.
With the ESR, GE is sponsoring joint sessions on AI, as well as a 300-sq-m dedicated space in GE's booth where visitors can experience AI through interactive tools, according to the society. A GE algorithm will also be used as part of the Image Interpretation quiz, in which junior radiologists are presented with a challenging case and are given multiple differential diagnoses.
The ESR recognizes the necessity of AI, as today's radiologists are faced with 10 times the images per case compared with radiologists just 10 years ago, according to Dr. Paul Parizel, past president of the ESR. And that explosion in volume looks likely to continue in the future.
"We are reaching the limit of the human mind," Parizel said, adding that he hopes GE and the ESR can continue the partnership after the meeting.
In its ECR booth, GE is discussing the use of its Edison platform for accelerating the development of AI algorithms. One of these is Bone VCAR, an algorithm that was trained on hundreds of CT spine cases to recognize different vertebrae with a single click. Vertebrae labels persist on images as the radiologist windows and levels through slices in a case.
In the realm of breast imaging, GE is showing findings from the iCAD mammography computer-aided detection (CAD) algorithm integrated into its viewing software. This tool could identify suspicious cases for further inspection by the breast radiologist or generate a confidence score in a diagnosis. Users can also toggle the application on and off by simply clicking a button.
But GE sees AI as having applications outside of image analysis. The company is working with Swiss researchers on an algorithm to predict the likelihood that a patient will not show up for a scheduled exam based on factors such as age, disease, time of appointment, and even the weather.
If the algorithm detects a high likelihood of a patient no-show, then a facility could take additional action, such as sending the patient more reminders or even arranging transportation for him or her. The algorithm could also be applied when the exam is scheduled to avoid giving patients an appointment at a time when they are unlikely to show up, such as a Friday afternoon.
GE is also discussing future applications of AI, such as an algorithm for detecting pneumothorax on mobile x-ray exams. Also based on Edison, this algorithm could prioritize certain cases based on a generated confidence score for pneumothorax. While it's not yet a product, GE hopes to have something ready to commercialize by the end of 2019.
GE's booth at ECR 2019 isn't all about artificial intelligence, however. In MRI, the company is discussing its progress on adaptive imaging receive (AIR) flexible positioning radiofrequency (RF) coils, which were demonstrated at RSNA 2018. The company is highlighting the flexible, blanket-like design of the coils, which are designed to wrap closely around patients for improved image quality. AIR coils are also 60% lighter than conventional coils.
Another new AI technology for MRI is AIRx, an algorithm that uses anatomy recognition to define correct anatomic landmarks and automate the scanning process for everything from routine to challenging scans. AIRx received U.S. Food and Drug Administration (FDA) clearance the week before ECR 2019, and the CE Mark is pending.